Avenger (#03 in Halflings Series)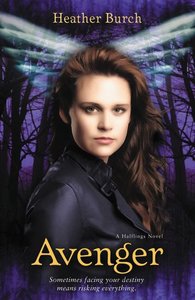 Praise for the series: 'Sure to appeal to fans of both star-crossed lovers and Stephenie Meyer.' -- Booklist 'A well-written, thoroughly thought-out, and utterly addicting read.' -- USA Today Sometimes the Truth Comes with a Price Nikki knew Damon Vessler would not let his prized creation go easily---she simply never imagined the lengths he'd go to get her back into his clutches, and turn Nikki's heart toward darkness. A Seeker at her heels, trained on her blood, Nikki flees with Raven alongside her for protection, while Mace and the other Halflings fight the battle that has erupted on earth. But even as the two boys she loves fight for her, she knows the battle will be hers to win. Determined to uncover the secrets of her past, and exactly how she fits into Vessler's twisted plans, Nikki sets off on her own, and soon discovers facing hellacious beasts is nothing compared to the decision she will need to make. One that could change not only the war, and her relationship with Mace and Raven, but her future with the Throne.

- Publisher
You May Also Be Interested In
About "Avenger (#03 in Halflings Series)"
Praise for the series: 'Sure to appeal to fans of both star-crossed lovers and Stephenie Meyer.' -- Booklist 'A well-written, thoroughly thought-out, and utterly addicting read.' -- USA Today Sometimes the Truth Comes with a Price Nikki knew Damon Vessler would not let his prized creation go easily---she simply never imagined the lengths he'd go to get her back into his clutches, and turn Nikki's heart toward darkness. A Seeker at her heels, trained on her blood, Nikki flees with Raven alongside her for protection, while Mace and the other Halflings fight the battle that has erupted on earth. But even as the two boys she loves fight for her, she knows the battle will be hers to win. Determined to uncover the secrets of her past, and exactly how she fits into Vessler's twisted plans, Nikki sets off on her own, and soon discovers facing hellacious beasts is nothing compared to the decision she will need to make. One that could change not only the war, and her relationship with Mace and Raven, but her future with the Throne.
- Publisher


Meet the Author
Heather Burch
Heather Burch grew up in Branson, Missouri, where she learned to love fiction. She then married into a family of published novelists and quickly learned writing was her heart's desire. When she's not working on her latest book, Heather can be found watching a sunset at a beach near her home in Southern Florida, along with her sons Jake and Isaac, and husband, John---who is her hero in every way.
Other Titles In The "Halflings" Series View All