Back to the Source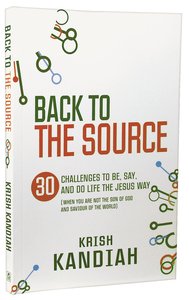 This is the theme book for Spring Harvest 2013. It takes the form of 40 daily readings. Based around the first letter of John, it will explore what John says about who Jesus was and is, the claims he made about himself and what it means to 'be, say and do' Good News.

- Publisher
You May Also Be Interested In
About "Back to the Source"
This is the theme book for Spring Harvest 2013. It takes the form of 40 daily readings. Based around the first letter of John, it will explore what John says about who Jesus was and is, the claims he made about himself and what it means to 'be, say and do' Good News.
- Publisher


Meet the Authors
Krish Kandiah
Dr Krish Kandiah (PhD., Kings College, University of London) is Executive Director of Churches in Mission for the UK Evangelical Alliance, he was formerly the Director of the Oxford Centre for Christian Apologetics and also Tutor in Mission and Evangelism at Wycliffe Hall. He was also a member of the Oxford University Theology faculty.
Krish has worked with students in the UK with Universities and Colleges Christian Fellowship, and in Albania with the IFES. His publications include Yahweh - God in all his fullness (Spring Harvest Bible Study Guides), Destiny- what is life all about?, Twenty Four: Integrating faith and real life, Fresh (bitesize inspirations for new students) and LIFESWAP.
He is still a regular speaker at university missions, and has wide experience in evangelism and cross cultural mission. He is a regular speaker at Spring Harvest and is in demand as a speaker and lecturer. He also presented the DVD resource Christian Life and Global Mission.(LBC Productions).
Koorong -Editorial Review.
Miriam Kandiah
Before his appointment as Executive Director: Churches in Mission for the UK Evangelical Alliance, Dr. Krish Kandiah was the Director of the Oxford Centre for Christian Apologetics and also Tutor in Mission and Evangelism at Wycliffe Hall. He was also a member of the Oxford University Theology faculty.Krish has worked with students in the UK with Universities and Colleges Christian Fellowship and in Albania with the International Fellowship of Evangelical Students, before becoming pastor of a multi-cultural church in Harrow. He is still a regular speaker at university missions and has wide exp
Table Of Contents
Contents Introduction 7 Be It Like Jesus 1. Be Iconic 13 2. Be Glorious 19 3. Be True 24 4. Be Down To Earth 30 5. Be Peacemakers 35 6. Be Unshakeable 40 7. Be Available 46 8. Be Descendants 51 9. Be Go-betweens 56 10. Be Luminous 61 Say It Like Jesus 11. Say It Audibly 69 12. Say It Empathetically 75 13. Say It Honestly 80 14. Say It Creatively 86 15. Say It Compassionately 92 16. Say It Hopefully 97 17. Say It Absolutely 102 18. Say It Critically 108 19. Say It Confidently 113 20. Say It Silently 118 Do It Like Jesus 21. Do Small 125 22. Do Work 130 23. Do Nothing 136 24. Do Something 141 25. Do Viral 147 26. Do Sabbath 153 27. Do Miracles 159 28. Do Revolution 165 29. Do Touch 170 30. Do Together 176 Notes 182