Bacon Sandwiches and Salvation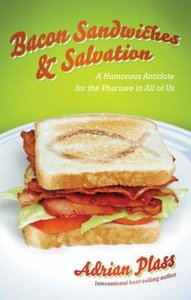 "Halfway through the service our minister asked the congregation a question. 'For you, what is the most important thing in the world?' Liz and I answered more or less simultaneously. My reply was very proper and holy for a change. 'Salvation!' I cried piously. 'Bacon sandwiches!' suggested Liz, with all the passion and wisdom you would expect from a retired magistrate and area schools advisor for religious education. Yes, I thought to myself. Of course. Bacon sandwiches and salvation. That just about sums it up. A God who can create the indescribable tastiness of a bacon sandwich must be planning something pretty incredible in the salvation line." Join international best-selling author Adrian Plass in this A to Z laugh-out-loud guide to taking ourselves, as Christians, less seriously.

- Publisher
You May Also Be Interested In
About "Bacon Sandwiches and Salvation"
"Halfway through the service our minister asked the congregation a question. 'For you, what is the most important thing in the world?' Liz and I answered more or less simultaneously. My reply was very proper and holy for a change. 'Salvation!' I cried piously. 'Bacon sandwiches!' suggested Liz, with all the passion and wisdom you would expect from a retired magistrate and area schools advisor for religious education. Yes, I thought to myself. Of course. Bacon sandwiches and salvation. That just about sums it up. A God who can create the indescribable tastiness of a bacon sandwich must be planning something pretty incredible in the salvation line." Join international best-selling author Adrian Plass in this A to Z laugh-out-loud guide to taking ourselves, as Christians, less seriously.
- Publisher


Meet the Author
Adrian Plass
Adrian Plass has written over thirty books in the last twenty years, full of his uniquely wry observations about church and Christianity. As well as his biographical books, he has written novels, short stories, and collections of poems and sketches. His live presentations are often hilarious, often poignant, with a combination of humour, poetry and storytelling, but always warm and welcoming. He also leads BRF Quiet Days with his wife Bridget.