Barbara and Susan's Guide to the Empty Nest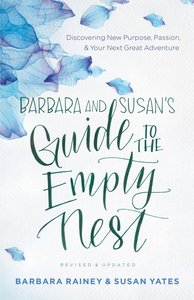 Discover New Passion and Purpose after the Kids Leave Home

Many women approaching their empty-nest years do so with mixed emotions--feeling grief for what is no more but also excitement for what lies ahead. Barbara Rainey and Susan Yates are seasoned empty nesters, and they know firsthand the ups and downs, the uncertainty and challenges that accompany this new stage of life.

Although Mom is a lifelong role, the job description changes significantly when the kids are grown. Questions abound: Who am I now? How do I relate to my kids? How will my marriage be affected? Where am I needed? Every woman in this stage needs to determine her own redefined role as wife, mother, friend, and more. Offering practical advice and biblical guidance, along with inspiring personal stories of women who have discovered how to live a meaningful life during the "second half," Barbara and Susan help you work out how to flourish and thrive in your own empty nests.

- Publisher
You May Also Be Interested In
About "Barbara and Susan's Guide to the Empty Nest"
Discover New Passion and Purpose after the Kids Leave Home

Many women approaching their empty-nest years do so with mixed emotions--feeling grief for what is no more but also excitement for what lies ahead. Barbara Rainey and Susan Yates are seasoned empty nesters, and they know firsthand the ups and downs, the uncertainty and challenges that accompany this new stage of life.

Although Mom is a lifelong role, the job description changes significantly when the kids are grown. Questions abound: Who am I now? How do I relate to my kids? How will my marriage be affected? Where am I needed? Every woman in this stage needs to determine her own redefined role as wife, mother, friend, and more. Offering practical advice and biblical guidance, along with inspiring personal stories of women who have discovered how to live a meaningful life during the "second half," Barbara and Susan help you work out how to flourish and thrive in your own empty nests.
- Publisher


Meet the Authors
Barbara Rainey
Dennis Rainey serves as president of FAMILYLIFE and hosts the nationally syndicated FamilyLife Today radio program. Barbara is an artist and writer and enjoys creating resources for women and families. ý The Raineys have written over twenty-five books together, including bestsellers Moments Together for Couples and Building Your Mate's Self-Esteem. They have six children and eighteen grandchildren.ý

Susan Alexander Yates
Susan Alexander Yates is the author of several books, including And Then I Had Teenagers, And Then I Had Kids and is a regular guest on FamilyLife Today and other national radio programs. She and her husband, John, are popular speakers at marriage and parenting conferences throughout the country. Susan and John live in Falls Church, Virginia.