Barth (Abingdon Pillars Of Theology Series)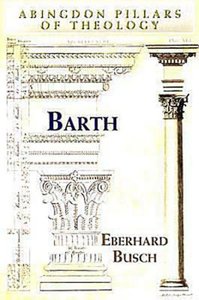 According to Eberhard Busch, Karl Barth's theology is "characterized by being...in constant movement and transformation." And a Christian's path is marked by self-correction in order to learn how to live out the same thing again and again in a better and more appropriate way. Likewise the church, like her God, is always on the move.

"The author of a masterly biography of Karl Barth, Eberhard Busch brings the rich detail of Barth's life and era to bear on Barth's theology. Unlike some other introductory texts on Barth, Busch's Barth draws on the full range of Barth's work. Each chapter concludes with provocative and insightful questions, making this book ideal for study groups. The joy of Barth's theology shines through on every page here a fine introduction to the 'joyful partisan of the good God'!
-Katherine Sonderegger, Professor of Theology, Virginia Theological Seminary

"Eberhard Bush is the acknowledged dean of contemporary Barth scholars. No one knows Barth's life and work more closely than he. He now gives us the most lively, engaging and perceptive study ever written in a short book on Karl Barth. Highly recommended, especially for beginners. But even those who know Barth well will find much to appreciate.
--George Hunsinger, Professor of Theology, Princeton Theological Seminary, and President, Karl Barth Society of North America

- Publisher
You May Also Be Interested In
About "Barth (Abingdon Pillars Of Theology Series)"
According to Eberhard Busch, Karl Barth's theology is "characterized by being...in constant movement and transformation." And a Christian's path is marked by self-correction in order to learn how to live out the same thing again and again in a better and more appropriate way. Likewise the church, like her God, is always on the move.

"The author of a masterly biography of Karl Barth, Eberhard Busch brings the rich detail of Barth's life and era to bear on Barth's theology. Unlike some other introductory texts on Barth, Busch's Barth draws on the full range of Barth's work. Each chapter concludes with provocative and insightful questions, making this book ideal for study groups. The joy of Barth's theology shines through on every page here a fine introduction to the 'joyful partisan of the good God'!
-Katherine Sonderegger, Professor of Theology, Virginia Theological Seminary

"Eberhard Bush is the acknowledged dean of contemporary Barth scholars. No one knows Barth's life and work more closely than he. He now gives us the most lively, engaging and perceptive study ever written in a short book on Karl Barth. Highly recommended, especially for beginners. But even those who know Barth well will find much to appreciate.
--George Hunsinger, Professor of Theology, Princeton Theological Seminary, and President, Karl Barth Society of North America
- Publisher


Meet the Author
Eberhard Busch
Eberhard Busch is professor emeritus of systematic theology at the University of Gottingen, Germany. He was Karl Barth's last assistant and intimate friend, and is the author of Karl Barth: His Life from Letters and Autobiographical Texts; The Great Passion: An Introduction to Karl Barth's Theology(ed); Barth (Abingdon Pillars of Theology) and Drawn to Freedom: Christian Faith Today in Conversation with the Heidelberg Catechism.
Other Titles In The "Abingdon Pillars Of Theology" Series View All