Basic Guide to Interpreting the Bible, The, 2nd Edition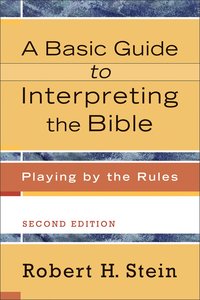 In this accessible guide to interpreting the Bible, senior New Testament scholar Robert Stein helps readers identify various biblical genres, understand the meaning of biblical texts, and apply that meaning to contemporary life. This edition has been completely revised throughout to reflect Stein's current thinking and changes to the discipline over the past decade. Students of the Bible will find the book effective in group settings.

Praise for the first edition

"Stein's work is both a fine introduction to the task of biblical hermeneutics for the novice and an innovative refresher for the veteran teacher or pastor."--Faith & Mission

- Publisher
You May Also Be Interested In
About "Basic Guide to Interpreting the Bible, The, 2nd Edition"
In this accessible guide to interpreting the Bible, senior New Testament scholar Robert Stein helps readers identify various biblical genres, understand the meaning of biblical texts, and apply that meaning to contemporary life. This edition has been completely revised throughout to reflect Stein's current thinking and changes to the discipline over the past decade. Students of the Bible will find the book effective in group settings.

Praise for the first edition

"Stein's work is both a fine introduction to the task of biblical hermeneutics for the novice and an innovative refresher for the veteran teacher or pastor."--Faith & Mission
- Publisher


Meet the Author
Robert H Stein
Robert H. Stein (PhD.,Princeton Theological Seminary) is senior professor of New Testament interpretation at The Southern Baptist Theological Seminary, Louisville, Kentucky. He is the author of An Introduction to the Parables of Jesus, The Method and Message of Jesus' Teachings, Difficult Passages in the New Testament, Luke (New American Commentary), A Basic Guide to Interpreting the Bible, Studying the Synoptic Gospels: Origin and Interpretation and The Synoptic Problem: An Introduction. His most recent publication is Mark (Baker Exegetical Commentary Series).