Basics of New Testament Syntax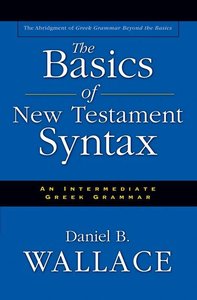 The Basics of New Testament Syntax provides concise, up-to-date guidance for intermediate Greek students to do accurate exegesis of biblical texts. Abridged from Greek Grammar Beyond the Basics: An Exegetical Syntax of the New Testament, the popular exegetical Greek grammar for studies in Greek by Daniel B. Wallace, The Basics of New Testament Syntax offers a practical grammar for second-year students. The strengths of this abridgment will become quickly apparent to the user: * It shows the relevance of syntax for exegesis and is thoroughly cross-referenced to Exegetical Syntax. * It includes an exceptional number of categories useful for intermediate Greek studies. * It is easy to use. Each semantic category is discussed, and a definition and key to identification are provided. * Scores of charts and tables are included to enable the intermediate student to grasp the material quickly.

- Publisher
You May Also Be Interested In
About "Basics of New Testament Syntax"
The Basics of New Testament Syntax provides concise, up-to-date guidance for intermediate Greek students to do accurate exegesis of biblical texts. Abridged from Greek Grammar Beyond the Basics: An Exegetical Syntax of the New Testament, the popular exegetical Greek grammar for studies in Greek by Daniel B. Wallace, The Basics of New Testament Syntax offers a practical grammar for second-year students. The strengths of this abridgment will become quickly apparent to the user: * It shows the relevance of syntax for exegesis and is thoroughly cross-referenced to Exegetical Syntax. * It includes an exceptional number of categories useful for intermediate Greek studies. * It is easy to use. Each semantic category is discussed, and a definition and key to identification are provided. * Scores of charts and tables are included to enable the intermediate student to grasp the material quickly.
- Publisher


Meet the Author
Daniel B Wallace
Daniel Baird Wallace (PhD. Dallas Theological Seminary) is a professor of New Testament Studies at Dallas Theological Seminary where he has been tenured since 1995. Wallace is considered an authority on Koine Greek grammar and New Testament textual criticism among evangelical scholars. He has published largely in these fields and has presented many papers at The Society of Biblical Literature as well as The Evangelical Theological Society conferences.Wallace published his first edition of Greek Grammar Beyond The Basics in 1996. It has since become a standard work in the field. He has deited and contributed to Reinventing Jesus: How Contemporary Skeptics Miss the Real Jesus and Mislead Popular Culture, with J. Ed Komoszewski and M. James Sawyer. (Kregel, 2006), Who's Afraid of the Holy Spirit? An Investigation into the Ministry of the Spirit of God Today, with M. James Sawyer (Biblical Studies Press, 2005), The Basics of New Testament Syntax: An Intermediate Grammar. (Zondervan, 2000) and Dethroning Jesus: Exposing Popular Culture's Quest To Unseat The Biblical Christ with Darrell Bock (Baker, 2006).