Battle For Cannibal Island (#08 in Adventures In Odyssey Imagination Station Series)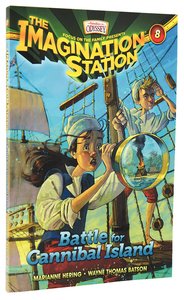 $

7.99

$

6.39
You Save: $1.60 (20%)
Paperback
Patrick and Beth are hurled into the South Pacific during the 1840s and take part in a breathtaking search for the mysterious Starlight Island. The cousins join the clever Scottish pirate hunter Captain Connor Glenn and the crew of the flagship "Saint Andrew's Lance" as they hunt the infamous pirate Captain Tobias Dredd. Their search leads them to the emerald-green islands of Fiji, where they attempt to rescue missionary William Cross. But Captain Dredd's forces attack the island, and Patrick and Cross are kidnapped. Beth and Captain Glenn must save them, but it's a race against time. And the only hopes they have of finding the Starlight Island rest in their trust in God and a broken telescope that just might reveal more than meets the eye.

- Publisher It?s 1852 and cousins Patrick and Beth sail to Fiji on the HMS Calliope under the command of Captain James E. Home. They arrive at the islands to find that the Christian Fijians are at war with the non-Christian Fijians. Missionary James Calvert is trying to make peace and suggests that the captain allow peace negotiations on board the British vessel. Patrick and Beth learn about sacrificial living when they observe Calvert?s determination to live on Fiji despite the dangers and impoverished conditions and that he is willing to risk his life to live as Jesus would.

- Publisher
You May Also Be Interested In
About "Battle For Cannibal Island (#08 in Adventures In Odyssey Imagination Station Series)"
Patrick and Beth are hurled into the South Pacific during the 1840s and take part in a breathtaking search for the mysterious Starlight Island. The cousins join the clever Scottish pirate hunter Captain Connor Glenn and the crew of the flagship "Saint Andrew's Lance" as they hunt the infamous pirate Captain Tobias Dredd. Their search leads them to the emerald-green islands of Fiji, where they attempt to rescue missionary William Cross. But Captain Dredd's forces attack the island, and Patrick and Cross are kidnapped. Beth and Captain Glenn must save them, but it's a race against time. And the only hopes they have of finding the Starlight Island rest in their trust in God and a broken telescope that just might reveal more than meets the eye.
- Publisher

It?s 1852 and cousins Patrick and Beth sail to Fiji on the HMS Calliope under the command of Captain James E. Home. They arrive at the islands to find that the Christian Fijians are at war with the non-Christian Fijians. Missionary James Calvert is trying to make peace and suggests that the captain allow peace negotiations on board the British vessel. Patrick and Beth learn about sacrificial living when they observe Calvert?s determination to live on Fiji despite the dangers and impoverished conditions and that he is willing to risk his life to live as Jesus would.
- Publisher


Meet the Authors
Marianne Hering
Marianne Hering, former editor of Focus on the Family Clubhouse magazine, has written hundreds of magazine articles, and numerous fiction books for children as well as the Tyndale published, Focus on the Family Clubhouse Activity Book. Currently, she is a freelance writer living in Colorado with her husband and three children.
Wayne Thomas Batson
Wayne Thomas Batson was born in Seabrook, MD in 1968. During the early years he tortured his older brothers and sisters, doing those things that only younger siblings can do to get on your nerves.

Wayne attended Gabriel DuVal Senior High School and wrote this for his yearbook. During his high school and early college years, he played lead guitar for a rock band called "Contagious". They were catchy, but apparently not enough to get a record deal.

Having completed the rigorous Holmes English Literature Curriculum, he graduated from the University of Maryland, College Park in 1991. In 1996, he received his first graduate degree in counseling. He has continued his studies with 36 credit hours of graduate-level reading courses. Having spent the last fifteen years teaching reading and English to middle schools students, Wayne pioneered the active instruction of strategic reading in Anne Arundel County, Maryland, and has written Reading and English curricula for three public school districts in the state.

Wayne lives in Eldersburg with his beautiful wife of eleven years and his four wonderful young children. Besides dividing his time between family, teaching, and writing, he likes to read, golf, play PS2, travel to the beach, play electric guitar, and create 3D artwork.
Other Titles In The "Adventures In Odyssey Imagination Station" Series View All