Beautiful Feet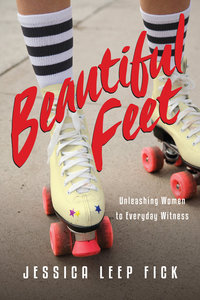 :"How beautiful are the feet of those who bring good news!" ?Romans 10:15Sometimes women feel like we're not cut out for evangelism. We may worry that our female bodies get in the way of our witness, or that we will seem awkward or pushy. We can feel insecure, like what we do won't make a difference in leading people to Jesus.Evangelist Jessica Leep Fick believes that God has created women to go to amazing and ordinary places to share his love. We have aptitudes and abilities that God can use in his mission, like gifts of collaboration, empathy and the ability to share vulnerably. Women throughout Scripture were heralds of the gospel, and we can be too.Get ready to join Jessica and women across the globe on this adventure of sharing Jesus with confidence and love. This upbeat, motivating guide will unleash what God has created in you to boldly and lovingly share Jesus. Discover how you too have beautiful feet.

- Publisher
You May Also Be Interested In
About "Beautiful Feet"
:"How beautiful are the feet of those who bring good news!" ?Romans 10:15Sometimes women feel like we're not cut out for evangelism. We may worry that our female bodies get in the way of our witness, or that we will seem awkward or pushy. We can feel insecure, like what we do won't make a difference in leading people to Jesus.Evangelist Jessica Leep Fick believes that God has created women to go to amazing and ordinary places to share his love. We have aptitudes and abilities that God can use in his mission, like gifts of collaboration, empathy and the ability to share vulnerably. Women throughout Scripture were heralds of the gospel, and we can be too.Get ready to join Jessica and women across the globe on this adventure of sharing Jesus with confidence and love. This upbeat, motivating guide will unleash what God has created in you to boldly and lovingly share Jesus. Discover how you too have beautiful feet.
- Publisher


Meet the Author
Jessica Leep Fick
Jessica Leep Fick is a regional evangelism coordinator for InterVarsity Christian Fellowship, preaching, teaching and doing evangelism training at conferences, churches and campus groups across the country. She loves to help believers have fun with Jesus in his mission and talk with people who don't follow Jesus about their spiritual questions. Jessica believes that the good news of Jesus should influence every area of life--not just the soul--and is passionate about following Jesus as a wife, mom, preacher, neighbor, student and friend. She has a master's degree in evangelism and leadership from Wheaton College Graduate School and lives in Cleveland, Ohio, with her husband and two sons.
Table Of Contents
:introduction: Can God Use Me?1. Uncomfortable2. We Saw Your Boobs 3. Fashionistas For Jesus4. First-date Awkwardness5. Choose The Right Shoes6. Burning Man And The Resurrected Man7. Connecting God's Story, My Story & Her Story8 Experiments In Loving Others9. Are You A Peacock Or A Pigeon?10. Rest And Other Strange Concepts11. Life Changes, God Is Unchanging12. Compassionate Callusesepilogueacknowledgmentsappendix Aappendix Bdiscussion Guidenotesbibliography