Beautiful on the Mountain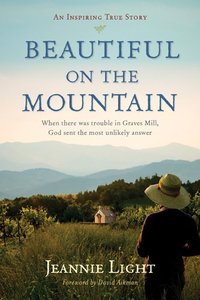 If you enjoyed the classic novel "Christy" and the bestselling Mitford series, then you'll love "Beautiful on the Mountain," a real-life tale about serving God in unlikely circumstances. In 1977, Jeannie Light left her fine plantation home amid heartbreak and came to Graves Mill, a tiny hamlet in the Blue Ridge Mountains. Alone in an utterly new kind of life, Jeannie was determined to find the courage to make a fresh start.To Jeannie's surprise, she found herself called upon by her new neighbors to open the old, deteriorated country church, a place that had once united the fractured community of mountain folk. With no training, and no small amount of trepidation, she undertook the task. And as she embarked on an unforeseen series of adventures, from heartbreaking to hilarious, Jeannie would learn more than she ever expected about faith, loving your neighbor, and doing the work that God sets in front of you. Because sometimes, God calls us to go where there is no path . . . and leave a trail.

- Publisher
You May Also Be Interested In
About "Beautiful on the Mountain"
If you enjoyed the classic novel "Christy" and the bestselling Mitford series, then you'll love "Beautiful on the Mountain," a real-life tale about serving God in unlikely circumstances. In 1977, Jeannie Light left her fine plantation home amid heartbreak and came to Graves Mill, a tiny hamlet in the Blue Ridge Mountains. Alone in an utterly new kind of life, Jeannie was determined to find the courage to make a fresh start.To Jeannie's surprise, she found herself called upon by her new neighbors to open the old, deteriorated country church, a place that had once united the fractured community of mountain folk. With no training, and no small amount of trepidation, she undertook the task. And as she embarked on an unforeseen series of adventures, from heartbreaking to hilarious, Jeannie would learn more than she ever expected about faith, loving your neighbor, and doing the work that God sets in front of you. Because sometimes, God calls us to go where there is no path . . . and leave a trail.
- Publisher


Meet the Authors
David Aikman
David Aikman is a former Time magazine chief foreign correspondent who covered foreign affairs for more than 20 yrs. He is now a full time writer and has authored the novel When the Almond Tree Blossoms and a recent book On the Ground in the Middle-East. He resides with his family in Burke, Virginia.
Koorong -Editorial Review.