Beautiful One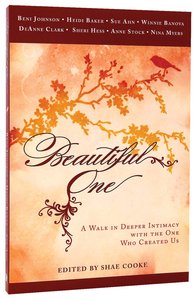 "Arise, my love, my beautiful one come away." Song of Solomon 2:10 (ESV)

The insightful wisdom, joy, and lightheartedness of seven amazing women who have pushed through extreme winters only to fall more intensely in love with Jesus will challenge and provoke you to dance, live, breathe, and have your being in the One who created you to arise as His delicate, brilliant one into the bounteous reality of Heaven on Earth. Shed the orphan mindset that keeps you or your loved ones in spiritual poverty, misery, bondage, or rejection and get caught up in the swirl of deeper Father-daughter relationship with Abba Daddy God, who dispatches all of Heaven's resources concerning you for major help and breakthrough from whatever your cocoon into a lavishly abundant, fragrant, "destiny now" season. See how time truly has been on your side! Not one moment has been wasted! Learn how all of these women - Sue, Heidi, Beni, Winnie, Anne, Nina, and DeAnn - endured and discovered how to push through their painful labor for the birthing and rushing in of new things beyond belief. Your moment has arrived. Daddy is in the building! Say good-bye to Poverty Flats. Hear the voice of the Spirit of Adoption calling His darling beautiful daughter, "Arise! Come with Me child. Your time is now." Learn how to:
- detoxify, filter your reality, and get focused;
- make it to the place of faith and belief for your circumstances;
- endure time and overcome the hurdles;
- observe, focus, shift paradigms;
- see God on the other side of your pain;
- get caught up into God's extravagant plan;
- embrace Daddy's lavish love.



- Publisher
You May Also Be Interested In
About "Beautiful One"
"Arise, my love, my beautiful one come away." Song of Solomon 2:10 (ESV)

The insightful wisdom, joy, and lightheartedness of seven amazing women who have pushed through extreme winters only to fall more intensely in love with Jesus will challenge and provoke you to dance, live, breathe, and have your being in the One who created you to arise as His delicate, brilliant one into the bounteous reality of Heaven on Earth. Shed the orphan mindset that keeps you or your loved ones in spiritual poverty, misery, bondage, or rejection and get caught up in the swirl of deeper Father-daughter relationship with Abba Daddy God, who dispatches all of Heaven's resources concerning you for major help and breakthrough from whatever your cocoon into a lavishly abundant, fragrant, "destiny now" season. See how time truly has been on your side! Not one moment has been wasted! Learn how all of these women - Sue, Heidi, Beni, Winnie, Anne, Nina, and DeAnn - endured and discovered how to push through their painful labor for the birthing and rushing in of new things beyond belief. Your moment has arrived. Daddy is in the building! Say good-bye to Poverty Flats. Hear the voice of the Spirit of Adoption calling His darling beautiful daughter, "Arise! Come with Me child. Your time is now." Learn how to:
- detoxify, filter your reality, and get focused;
- make it to the place of faith and belief for your circumstances;
- endure time and overcome the hurdles;
- observe, focus, shift paradigms;
- see God on the other side of your pain;
- get caught up into God's extravagant plan;
- embrace Daddy's lavish love.


- Publisher


Meet the Authors
Beni Johnson
Bill and Beni Johnson are the senior pastors of Bethel Church. Together they serve a growing number of churches that have partnered for revival. Beni oversees Bethelrsquo;s intercessors and Prayer House. Her approach to intercession makes supernatural connection with the Lord accessible to all. Bill and Beni have three children and their spouses. They also have eight grandchildren.
Heidi Baker
Heidi and Rolland Baker, natives of Southern California, served as missionaries in Indonesia and Hong Kong before following God's call eight years ago to Mozambique. Facing overwhelming need, the Bakers have seen God provide miraculously for many hundreds of children through their ministry, and many more people through over five thousand churches that their mission has planted in ten countries.