Because We Are Called to Counter Culture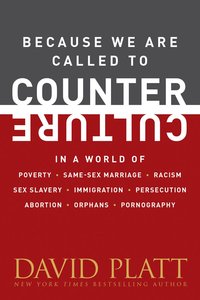 Poverty, Same-Sex Marriage, Racism, Sex Slavery, Immigration, Persecution, Abortion, Orphans, Pornography-how are we supposed to respond to all of this?

In this companion piece to Counter Culture, David Platt provides Biblical support and practical action steps to help Christians take a courageous and compassionate stand on some of the most controversial issues of our time, and highlights dozens of ways individuals and churches can get involved at both the local and international level.

The stage is set for the God of the universe to do the unthinkable, the unimaginable, the shocking, and the scandalous. And he wants you to be a part of it. It's time to take a stand for Christ, join the fight against injustice, and counter culture!

- Publisher
You May Also Be Interested In
About "Because We Are Called to Counter Culture"
Poverty, Same-Sex Marriage, Racism, Sex Slavery, Immigration, Persecution, Abortion, Orphans, Pornography-how are we supposed to respond to all of this?

In this companion piece to Counter Culture, David Platt provides Biblical support and practical action steps to help Christians take a courageous and compassionate stand on some of the most controversial issues of our time, and highlights dozens of ways individuals and churches can get involved at both the local and international level.

The stage is set for the God of the universe to do the unthinkable, the unimaginable, the shocking, and the scandalous. And he wants you to be a part of it. It's time to take a stand for Christ, join the fight against injustice, and counter culture!
- Publisher


Meet the Author
David Platt
David Plattis pastor of the Church at Brook Hills in Birmingham, Alabama. He holds a Ph.D. from New Orleans Baptist Theological Seminary and is the author of the best-selling book,Radical: Taking Back Your Faith from the American Dream.