BECNT: James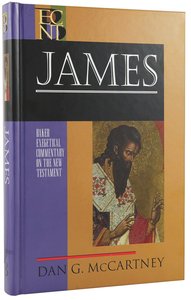 Dan McCartney, a highly regarded New Testament scholar and an expert on biblical interpretation, offers a substantive yet highly accessible commentary on James in this latest addition to the award-winning BECNT series. With extensive research and thoughtful chapter-by-chapter exegesis, McCartney leads readers through all aspects of the book of James--sociological, historical, and theological--to help them better understand its meaning and relevance. As with all BECNT volumes, this commentary features the author's detailed interaction with the Greek text and an acclaimed, user-friendly design. It admirably achieves the dual aims of the series--academic sophistication with pastoral sensitivity and accessibility.

- Publisher
You May Also Be Interested In
About "BECNT: James"
Dan McCartney, a highly regarded New Testament scholar and an expert on biblical interpretation, offers a substantive yet highly accessible commentary on James in this latest addition to the award-winning BECNT series. With extensive research and thoughtful chapter-by-chapter exegesis, McCartney leads readers through all aspects of the book of James--sociological, historical, and theological--to help them better understand its meaning and relevance. As with all BECNT volumes, this commentary features the author's detailed interaction with the Greek text and an acclaimed, user-friendly design. It admirably achieves the dual aims of the series--academic sophistication with pastoral sensitivity and accessibility.
- Publisher


Meet the Author
Dan G Mccartney
Dan G. McCartney (PhD, Westminster Theological Seminary) is professor of New Testament interpretation at Redeemer Theological Seminary in Dallas, Texas. He previously taught at Westminster Theological Seminary for more than twenty years. He is the author of Let the Reader Understand: A Guide to Interpreting and Applying the Bible and James (Baker Exegetical Commentary on the New Testament).
Table Of Contents
Series Preface
author's Preface
abbreviations
transliteration
map
introduction To James
i. Salutation (1:1)
ii. Overview Of The Life Of Faith (1:2-27)
a. Faith And Wisdom (1:2-8)
b. Pride And Wealth (1:9-12)
c. Faith And Testing (1:13-18)
d. Doing The Word Of God (1:19-25)
e. True Religion (1:26-27)
iii. First Discourse: Faith And Behavior (2:1-26)
a. Part 1: Faith, Favoritism, And Law (2:1-13)
b. Part 2: Faith And Works (2:14-26)
iv. Second Discourse: Faith, Wisdom, And Speech Ethics (3:1-18)
a. Part 1: Teachers, Tongues, And Turmoil (3:1-12)
b. Part 2: Wisdom From Above (3:13-18)
v. Third Discourse: Strife In The Church As Lack Of Faith (4:1-12)
a. Part 1: Lusts And Repentance (4:1-10)
b. Part 2: Defamation And Censure (4:11-12)
vi. Interjection: Two Oracles Of Warning (4:13-5:6)
a. Oracle 1: Warning To Merchants (4:13-17)
b. Oracle 2: Warning To Landlords (5:1-6)
vii. Fourth Discourse: Looking To God (5:7-18)
a. Part 1: Faith And Patience (5:7-11)
b. Bridge Verse: Prohibition Of Oaths (5:12)
c. Part 2: Faith And Prayer (5:13-18)
viii. Closing Exhortation: Mutual Responsibility And Blessing (5:19-20)
excursus 1: Faith As The Central Concern Of James
excursus 2: Faith, Works, And Justification In James And Paul
excursus 3: James And Wisdom
excursus 4: James And Suffering
works Cited
index Of Subjects
index Of Authors
index Of Greek Words
index Of Scripture And Other Ancient Writings
{{review.title}}
By {{review.author.name}},

{{review.reviewCreatedDate | date:'MMM dd yyyy'}}

{{reviewdescription}}
{{review.text}}
---