Becoming a Millionaire God's Way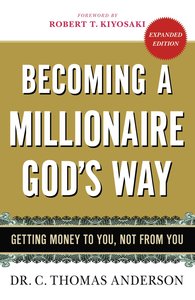 This newly revised and expanded edition decries the myth that Christians must be poor and gives readers the keys to financial prosperity. Dr. Anderson combines biblical principles with expert financial advice, equipping readers with the tools they need to attain the riches they deserve. An invaluable resource for current or would-be investors or entrepreneurs, this book not only inspires readers to become educated about finances but also spurs them on to action and compels them to move forward confidently to achieve their financial dreams.
New content includes callouts and new chapters on how to invest safely in today's market and on understanding that Jesus wasn't poor.

- Publisher
You May Also Be Interested In
About "Becoming a Millionaire God's Way"
This newly revised and expanded edition decries the myth that Christians must be poor and gives readers the keys to financial prosperity. Dr. Anderson combines biblical principles with expert financial advice, equipping readers with the tools they need to attain the riches they deserve. An invaluable resource for current or would-be investors or entrepreneurs, this book not only inspires readers to become educated about finances but also spurs them on to action and compels them to move forward confidently to achieve their financial dreams.
New content includes callouts and new chapters on how to invest safely in today's market and on understanding that Jesus wasn't poor.
- Publisher


Meet the Authors
C Thomas Anderson
Dr. C. Thomas Anderson is the founder and senior pastor of The Living Word Bible Church in Mesa, Arizona. He has devoted his life and his ministry to teaching life and truth. He appears frequently on a variety of television programs, including Praise the Lord, Word for Winners, and The 700 Club, and has authored several books, all intended to help people find success in every aspect of life. With nearly thirty years of experience in ministry, he continues to travel the world, and his humor and motivational ability place him in great demand.
Robert T Kiyosaki (Fwd)
Robert Kiyosaki, author of "Rich Dad Poor Dad, " the international runaway bestseller, is an investor, entrepreneur specializing in mining and real estate, as well as an educator. "Rich Dad Poor Dad, " published in 1997, has held a top spot on the famed "New York Times" list for nearly six years. Translated into 46 languages and available in 97 countries, the "Rich Dad" series has sold over 26 million copies worldwide and has dominated bestsellers lists across Asia, Australia, South America, Mexico, South Africa, and Europe.