Becoming Home (Frames Barna Group Series)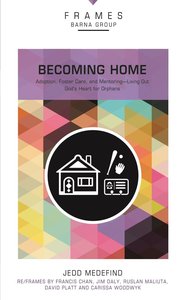 Caring for orphans makes grace touchable. When Christians choose to adopt, foster, mentor or support care for orphans around the world, it reveals God's true character to the world like nothing else we can do. This softcover book unpacks specific steps that you can take to care for orphans in distress.Some of these steps are 'big' choices like fostering or adopting; some are smaller choices like supporting work abroad or mentoring a foster youth. But all have the impact of revealing God's love to someone who wants to be home for good.Join Jedd Medefind, president of the Christian Alliance for Orphans (CAFO), as he reveals the profound sense that deep, sustaining love for orphans springs not from duty, guilt or even idealism, but foremost as a response to the way we've first been loved by God.

- Publisher
You May Also Be Interested In
About "Becoming Home (Frames Barna Group Series)"
Caring for orphans makes grace touchable. When Christians choose to adopt, foster, mentor or support care for orphans around the world, it reveals God's true character to the world like nothing else we can do. This softcover book unpacks specific steps that you can take to care for orphans in distress.Some of these steps are 'big' choices like fostering or adopting; some are smaller choices like supporting work abroad or mentoring a foster youth. But all have the impact of revealing God's love to someone who wants to be home for good.Join Jedd Medefind, president of the Christian Alliance for Orphans (CAFO), as he reveals the profound sense that deep, sustaining love for orphans springs not from duty, guilt or even idealism, but foremost as a response to the way we've first been loved by God.
- Publisher


Meet the Authors
Barna Group
In its 30-year history, Barna Group has conducted more than one million interviews over the course of hundreds of studies, and has become a go-to source for insights about faith and culture, leadership and vocation, and generations. Barna Group has carefully and strategically tracked the role of faith in America, developing one of the nation's most comprehensive databases of spiritual indicators. Notable clients include the Salvation Army, World Vision, Habitat for Humanity, Sony, Walden Media, Easter Seals, the Humane Society, the Gates Foundation, and NBC Universal. The firm's research is often quoted in major media outlets such as CNN, USA Today, the Wall Street Journal, Fox News, Chicago Tribune, Huffington Post, the New York Times, Dallas Morning News, and the Los Angeles Times.
Jedd Medefind
Medefind is a chief of staff and former communications director within the California State Legislature. Medefind graduated from Westmont College with degrees in economics and communication studies.
Other Titles In The "Frames Barna Group Series" Series View All