Becoming Who You Are (Originally Titled Roll Away Your Stone)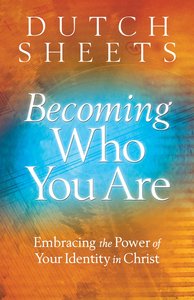 In this powerful book that Dutch Sheets calls his life message, readers are given truths about who they are in Christ and how to become the person God made them to be. More than a book about identity in Christ, it is an action plan to help believers conquer the lies that keep them defeated and walk into a newfound freedom. Originally titled Roll Away Your Stone, it provides sound biblical teaching that shows believers how to walk in the Spirit.

- Publisher
You May Also Be Interested In
About "Becoming Who You Are (Originally Titled Roll Away Your Stone)"
In this powerful book that Dutch Sheets calls his life message, readers are given truths about who they are in Christ and how to become the person God made them to be. More than a book about identity in Christ, it is an action plan to help believers conquer the lies that keep them defeated and walk into a newfound freedom. Originally titled Roll Away Your Stone, it provides sound biblical teaching that shows believers how to walk in the Spirit.
- Publisher


Meet the Author
Dutch Sheets
Dutch Sheets is the Senior Pastor of Springs Harvest Fellowship in Colorado Springs, Colorado. He has served on the faculty of Christ for the Nations Institute, and now serves as an instructor for Destiny Bible School and is a guest lecturer for Wagner Leadership Institute. He serves on many ministry boards and is a best selling author with books including Intercessory Prayer, Watchman Prayer and How to Pray for Lost Loved Ones among others. He travels across America and other nations challenging believers for passionate prayer and world-changing revival. Dutch and his wife, Ceci, and their daughters, Sarah and Hannah, make their home in Colorado Springs. - Publisher.