Before a Bad Goodbye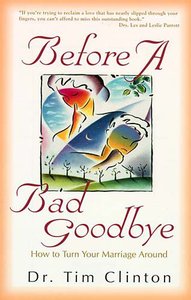 192 Pages

- Publisher Most couples see only two options for a crumbling marriage: divorce, or staying married "in name only." Now there's a third: true marital renewal. Dr. Clinton looks beyond the behavior-oriented symptoms addressed by most marriage counseling guides to offer a step-by-step biblical approach to marital rebirth and successful Christian intimacy---before it's too late.

- Publisher Tim Clinton has seen three outcomes through his marriage counseling practice-divorce, marriage in name only, and reconciliation. Reconciliation is, by far, the most difficult option. In "Before a Bad Goodbye," he shows couples at the breaking point how to nurture forgiveness, develop mutual respect and demonstrate selfless love on a new path to reconciliation.

- Publisher
You May Also Be Interested In
About "Before a Bad Goodbye"
192 Pages
- Publisher

Most couples see only two options for a crumbling marriage: divorce, or staying married "in name only." Now there's a third: true marital renewal. Dr. Clinton looks beyond the behavior-oriented symptoms addressed by most marriage counseling guides to offer a step-by-step biblical approach to marital rebirth and successful Christian intimacy---before it's too late.
- Publisher

Tim Clinton has seen three outcomes through his marriage counseling practice-divorce, marriage in name only, and reconciliation. Reconciliation is, by far, the most difficult option. In "Before a Bad Goodbye," he shows couples at the breaking point how to nurture forgiveness, develop mutual respect and demonstrate selfless love on a new path to reconciliation.
- Publisher


Meet the Author
Tim Clinton
Dr. Tim Clinton,(Ed.D., The College of William and Mary, LPC, LMFT) is president of the American Association of Christian Counselors. He is professor of Counseling and Pastoral Care at Liberty University and is executive director of the Liberty University Center for Counseling and Family Studies
Dr Clinton is the Executive Editor and co-author of Caring for People God's Way: A New Guide to Christian Counseling and Competent Christian Counseling: Foundations and Practice of Compassionate Soul Care.
He was Executive Editor and a primary writer for The Soul Care Bible and the author of Attachments: Unlock the Secret to Loving and Being Loved; Why You Do the Things You Do: The Secret to Healthy Relationships, Loving Your Child Too Much: Staying Close to your Kids without Overprotecting, Overindulging, or Overcontrolling and Turn Your Life Around: Breaking Free from Your Past and Discovering God's Dream for You.