Before I Wake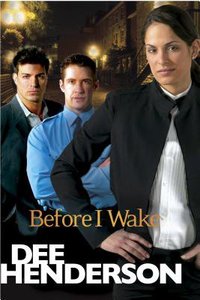 $13.99
$11.19
You Save: $2.80 (20%)
Paperback
Welcome to Justice . . .And good luck leaving alive!

Sheriff Nathan Justice loves the town he serves. Founded by his family generations before, Justice, Illinois, is mostly a peaceful place. But the tranquility has just been shattered.

Women visiting Justice are being murdered. Tourists in nice hotels, money still in their billfolds, jewelry still on the dresser. Quiet kills—they go to sleep and never awaken.

Rae Gabriella left the FBI after an undercover investigation turned terribly wrong. She's seeking to rebuild her life, and working as a private investigator alongside her former boyfriend Bruce Chapel in Justice, Illinois, seems like a place to start. But she suspects finding some peace and restoring her shaken faith will take more than just a change of location.

The sheriff is not pleased to find Rae working a case on behalf of one of the victims' families. Rae is staying in the same hotel where one of the women died, and her looks suggest she could be the next victim. Now that Bruce, Rae, and Nathan are forced to work around each other, the situation is threatening to become something much more personal . . . and it will test the faith of everyone it touches before it is over.

- Publisher The sheriff of Justice, Illinois, is hunting a killer. Women visiting town are being murdered, tourists in nice hotels, money still in their billfolds, jewelry still on the dresser. Quiet kills--they go to sleep and never awaken. The sheriff is not pleased to find the new detective in town, Rae Gabriella, working the case on behalf of one of the families. She's staying in the same hotel as one of the victims--and her looks suggest she could be the next victim.

- Publisher
You May Also Be Interested In
About "Before I Wake"
Welcome to Justice . . .And good luck leaving alive!

Sheriff Nathan Justice loves the town he serves. Founded by his family generations before, Justice, Illinois, is mostly a peaceful place. But the tranquility has just been shattered.

Women visiting Justice are being murdered. Tourists in nice hotels, money still in their billfolds, jewelry still on the dresser. Quiet kills—they go to sleep and never awaken.

Rae Gabriella left the FBI after an undercover investigation turned terribly wrong. She's seeking to rebuild her life, and working as a private investigator alongside her former boyfriend Bruce Chapel in Justice, Illinois, seems like a place to start. But she suspects finding some peace and restoring her shaken faith will take more than just a change of location.

The sheriff is not pleased to find Rae working a case on behalf of one of the victims' families. Rae is staying in the same hotel where one of the women died, and her looks suggest she could be the next victim. Now that Bruce, Rae, and Nathan are forced to work around each other, the situation is threatening to become something much more personal . . . and it will test the faith of everyone it touches before it is over.
- Publisher

The sheriff of Justice, Illinois, is hunting a killer. Women visiting town are being murdered, tourists in nice hotels, money still in their billfolds, jewelry still on the dresser. Quiet kills--they go to sleep and never awaken. The sheriff is not pleased to find the new detective in town, Rae Gabriella, working the case on behalf of one of the families. She's staying in the same hotel as one of the victims--and her looks suggest she could be the next victim.
- Publisher


Meet the Author
Dee Henderson
Pastor's daughter Dee Henderson is a lifelong resident of Illinois, USA, and currently resides in Springfield. She believes that marketing books should be about the stories rather than the writer, so she keeps a low profile compared to many authors. Her background is in mathematics and computing science (B.Sc 1988) and she had a high paying job as an engineer before she moved into full-time writing in 1996. Her technical expertise has given her an unusually keen insight into the structural aspects of storytelling. The results are plain to see; since 1999, Dee has produced two bestselling fiction series - the acclaimed O'Malley series and Uncommon Heroes - as well as eleven stand-alone titles.

Dee's books brilliantly mix suspense and romance, and her characters undergo varied and interesting faith journeys that are integrated skillfully into the storylines. Dee's work has won or been nominated for several prestigious industry awards including the RWA's RITA Award, the Christy Award, the ECPA Gold Medallion, the Holt Medallion, the National Readers' Choice Award, and the Golden Quill.
Customer Reviews For "Before I Wake"
Write Your Own Review
Before I Wake
By Beth Marinello,

Jan 06 2017
Before I Wake
this is a fantastic book and i really enjoyed it alot
---
Good read
By Boo,

Mar 25 2014
If you love suspense, this is a book for you! Although it didn't have the romance of a lot of Dee Hendersons books it is still interesting and keeps you turning pages long into the night! 
---
Very Gripping
By Nellee,

Dec 10 2007
"Before I wake" is another one of Dee Henderson's classic suspense novels. It is definitely a great read and, as with all her books, she keeps you on the edge with suspense and the build up to the conclusion. However, don't read this book if you don't enjoy things not being wrapped up. It ends with a pretty substantial cliffhanger regarding quite a number of different things, and with no known plans for a sequel, many may find this incredibly frustrating.
---
Before I wake by Dee Henderson
By Jenny,

Apr 25 2007
Before I wake is Dee Henderson's latest book. It's full of suspense and mystery and really has you sitting on the edge of your seat.

The town of Justice, Illinois, is normally a quiet town, so when visiting women are turning up dead things start to get mysterious.
Sheriff Nathan Justice is hunting a killer. Rae Gabriella a former FBI Undercover Agent has moved up to Justice, Illinois wanting to start life over again after a undercover assignment went horribly wrong. Her former boyfriend Bruce Chapel has asked that she come and work for him as a private investigator. However the Sheriff is not very pleased to have Rea in town as she is working on a case on behalf of one of the families. On top of that she is staying in the same hotel as one of the victims. As the friendships form and the investigation gets more involved it's becoming clear that Rea's looks might make her the next victim. 

Dee Henderson's books always grab the readers attention from the first words and leave you in suspense till the end. I love the way she incorporates crime and romance all in one book. I would highly recommend all of Dee Henderson's works as they are all just superbly written. I still find it hard to put one of her books down even if it's the fifth time reading them. I always wish the books had no end.     
---
Before I Wake by Dee Henderson
By Narelle Mollet,

Apr 11 2007
Dee Henderson's newest release is another multi-layered suspense novel which keeps you guessing until the end.  
 
Rae Gabriella is seeking refuge in the town of Justice, Illinois, trying to escape the memories from her former career as an FBI undercover agent and a case that went horribly wrong.  Turning to her former boyfriend and now close friend, Bruce Chapel she takes up his offer to work alongside him as a private investigator and attempts to put her shattered life back together.  When women start being murdered in Justice, Rae is asked to investigate by one of the distraught families and her skills and resolve are tested to the limit by a serial killer who leaves little if any evidence behind.  The investigation introduces her to Sheriff Nathan Justice, a man dedicated to his town and intent on catching the killer.  Nathan is reluctant to accept Rae's involvement but his protective nature and budding attraction to her hit a higher level when it becomes clear she could be the killer's next target. 
 
The storyline of Before I Wake is much more complex and detailed than Dee's earlier books and this is to be commended.  The many twists and subtle clues keep the reader intrigued throughout the story and the perpertrator's motives are hidden until the end which makes for a satisfying read.  Once again the dialogue between her characters is detailed and provides much of their background and exposes their personalities in a unique way.  The three main characters are interestng and their expressions of faith genuine and relevant.  The romance angle of the story which Dee usually writes to perfection falls a little flat with Rae happy to encourage Bruce's attempts to reestablish their relationship while enjoying time with Nathan.  It was a little implausible for my liking.  Despite this the suspense is superb and I hope a sequel is written which reaches a satisfying conclusion of the storyline between these appealing characters.
 
Dee's books have always been a  "must read" for me and that is yet to change!

{{review.title}}
By {{review.author.name}},

{{review.reviewCreatedDate | date:'MMM dd yyyy'}}

{{reviewdescription}}
{{review.text}}
---