Befriending Life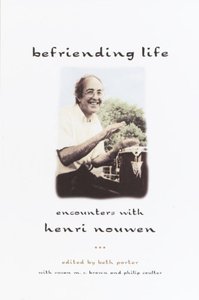 A beautiful collection of reminiscences celebrating the life and works of the bestselling author of The Wounded Healer, The Return of the Prodigal Son, and The Inner Voice of Love.

Henri Nouwen (1932-96) was a Catholic priest who taught at several theological institutions and universities in his home country of the Netherlands and in the United States. He spent the final years of his life teaching and ministering at the L'Arche Daybreak Community in Toronto, Canada. His writings have touched millions of readers around the world, and since his death, recognition of their enduring value has continued to grow. Oprah Winfrey, one of Nouwen's many admirers, ran an extensive excerpt from The Return of the Prodigal Son in her magazine, O, with Hillary Clinton contributing an introduction revealing the profound effect Nouwen had on her own life.

Nouwen's influence was not limited to the printed page. His one-on-one encounters as a lecturer, teacher, and spiritual guide, and as a leader at the L'Arche Daybreak Community, a home for people with mental and physical disabilities, enriched the lives of a wide variety of people. Now, Befriending Life brings together thoughtful, heartfelt remembrances of Nouwen by those who knew him best, from members of the L'Arche community to such prominent figures as Joseph Cardinal Bernardin of Chicago and Hillary Clinton. Their personal reflections on his life both on and off the page magnificently capture his spirit, compassion, and wisdom. With a wealth of quotations from Nouwen throughout, Befriending Life, like Nouwen's own great books, will inspire readers in all walks of life.


From the Hardcover edition.

- Publisher
You May Also Be Interested In
About "Befriending Life"
A beautiful collection of reminiscences celebrating the life and works of the bestselling author of The Wounded Healer, The Return of the Prodigal Son, and The Inner Voice of Love.

Henri Nouwen (1932-96) was a Catholic priest who taught at several theological institutions and universities in his home country of the Netherlands and in the United States. He spent the final years of his life teaching and ministering at the L'Arche Daybreak Community in Toronto, Canada. His writings have touched millions of readers around the world, and since his death, recognition of their enduring value has continued to grow. Oprah Winfrey, one of Nouwen's many admirers, ran an extensive excerpt from The Return of the Prodigal Son in her magazine, O, with Hillary Clinton contributing an introduction revealing the profound effect Nouwen had on her own life.

Nouwen's influence was not limited to the printed page. His one-on-one encounters as a lecturer, teacher, and spiritual guide, and as a leader at the L'Arche Daybreak Community, a home for people with mental and physical disabilities, enriched the lives of a wide variety of people. Now, Befriending Life brings together thoughtful, heartfelt remembrances of Nouwen by those who knew him best, from members of the L'Arche community to such prominent figures as Joseph Cardinal Bernardin of Chicago and Hillary Clinton. Their personal reflections on his life both on and off the page magnificently capture his spirit, compassion, and wisdom. With a wealth of quotations from Nouwen throughout, Befriending Life, like Nouwen's own great books, will inspire readers in all walks of life.


From the Hardcover edition.
- Publisher


Meet the Author
Beth Porter
Beth Porter and Philip Coulter are both writers who live and work at the L'Arche Daybreak Community. Susan M. S. Brown is an editor who lives and works in Massachusetts.