Beguiling Masquerade (#570 in Heartsong Series)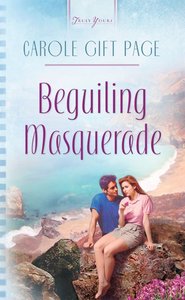 176 Pages

- Publisher Can Rebecca be herself without a mask? When quiet graduate student Becky Chandler dresses up as an elderly woman to research her thesis, she finds herself more outgoing and talkative, especially with her newfound friend, Myrtle Watson. But when she meets Myrtle's grandson, Becky is stunned to learn it's Rand Cameron, her sociology professor, on whom she has a secret crush. While Rand gets to know "eighty-year-old Rebecca," Becky is falling deeply in love with him. And when becky answers the door at rebecca's apartment, Rand assumes she is Rebecca's granddaughter. Can love have a chance when "Rebecca's" truth is revealed? Will Rand believe it was a terrible fraud or a beguiling masquerade?

- Publisher Satisfy the legions of romance readers hungry for wholesome, Christ-centered stories by carrying Barbour's Heartsong Presents line. Each of these mass market paperback novels is a top-quality romance reflecting Christian values through realistic stories. Available in both contemporary and historic settings, Heartsong Presents novels offer something for every romance reader--at a tremendous value price.

- Publisher
You May Also Be Interested In
About "Beguiling Masquerade (#570 in Heartsong Series)"
176 Pages
- Publisher

Can Rebecca be herself without a mask? When quiet graduate student Becky Chandler dresses up as an elderly woman to research her thesis, she finds herself more outgoing and talkative, especially with her newfound friend, Myrtle Watson. But when she meets Myrtle's grandson, Becky is stunned to learn it's Rand Cameron, her sociology professor, on whom she has a secret crush. While Rand gets to know "eighty-year-old Rebecca," Becky is falling deeply in love with him. And when becky answers the door at rebecca's apartment, Rand assumes she is Rebecca's granddaughter. Can love have a chance when "Rebecca's" truth is revealed? Will Rand believe it was a terrible fraud or a beguiling masquerade?
- Publisher

Satisfy the legions of romance readers hungry for wholesome, Christ-centered stories by carrying Barbour's Heartsong Presents line. Each of these mass market paperback novels is a top-quality romance reflecting Christian values through realistic stories. Available in both contemporary and historic settings, Heartsong Presents novels offer something for every romance reader--at a tremendous value price.
- Publisher


Meet the Author
Carole Gift Page
Page is an award-winning author, writing instructor, and conference speaker. She and her husband founded the Inland Empire Christian Writer's Guild.
Other Titles In The "Heartsong" Series View All