Being Human in God's World: An Old Testament Theology of Humanity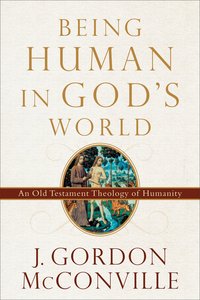 A Biblical Perspective on What It Means to Be Human

This major work by a widely respected Old Testament scholar and theologian unpacks a biblical perspective on fundamental questions of what it means to be human. J. Gordon McConville explores how a biblical view of humanity provides a foundation for Christian reflection on ethics, economics, politics, and church life and practice. The book shows that the Old Testament's view of humanity as "earthed" and "embodied" plays an essential part in a well-rounded Christian theology and spirituality, and applies the theological concept of the "image of God" to all areas of human existence.

- Publisher
You May Also Be Interested In
About "Being Human in God's World: An Old Testament Theology of Humanity"
A Biblical Perspective on What It Means to Be Human

This major work by a widely respected Old Testament scholar and theologian unpacks a biblical perspective on fundamental questions of what it means to be human. J. Gordon McConville explores how a biblical view of humanity provides a foundation for Christian reflection on ethics, economics, politics, and church life and practice. The book shows that the Old Testament's view of humanity as "earthed" and "embodied" plays an essential part in a well-rounded Christian theology and spirituality, and applies the theological concept of the "image of God" to all areas of human existence.
- Publisher


Meet the Author
J Gordon Mcconville
J. Gordon McConville, (Ph.D., Queen's University, Belfast) is Professor of Old Testament at the University of Gloucestershire in Cheltenham, England. He is the author of several books and studies on Old Testament topics, including Law and Theology in Deuteronomy (JSOT Press), Time and Place in Deuteronomy (with J. G. Millar; JSOT Press), Deuteronomy (Apollos Old Testament Commentary), 1 and 2 Chronicles (Daily Study Bible), Ezra, Nehemiah, Esther (Daily Study Bible), and Judgment and Promise: An Introduction to the Book of Jeremiah (Apollos). He is currently working on Old Testament political theology, and is co-editor of the Two Horizons Commentary (Old Testament) with Craig Bartholomew, has authored the volume on Joshua with Stephen Williams.
Koorong -Editorial Review.
Table Of Contents
a Biblical Perspective On What It Means To Be Human

this Major Work By A Widely Respected Old Testament Scholar And Theologian Unpacks A Biblical Perspective On Fundamental Questions Of What It Means To Be Human. J. Gordon Mcconville Explores How A Biblical View Of Humanity Provides A Foundation For Christian Reflection On Ethics, Economics, Politics, And Church Life And Practice. The Book Shows That The Old Testament's View Of Humanity As "earthed" And "embodied" Plays An Essential Part In A Well-rounded Christian Theology And Spirituality, And Applies The Theological Concept Of The "image Of God" To All Areas Of Human Existence.