Beloved (#03 in Where The Heart Lives Series)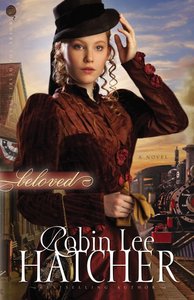 $

20.99

$

16.79
You Save: $4.20 (20%)
Paperback
Diana Brennan came west on the orphan train and was given a home with a loving couple who cherished and spoiled her. At 17, she fell hard for Tyson Applegate, the son of a wealthy mine owner. After a whirlwind courtship and marriage, Tyson took off for adventures around the world, including fighting with the Rough Riders in Cuba. Receiving no word of him for eight years, Diana's infatuation with her dashing husband died an ugly death, and she is ready to move past the old pain and marry again, just as soon as Tyson is declared legally dead. But when her husband returns, supposedly a changed man, he wants to reunite with his wife and run for the senate. While Diana suspects the election is his real reason for wanting her by his side, she agrees to maintain his home and to campaign with him, but when it is over, win or lose, she wants her freedom. He agrees with one condition----she must give him a chance to change her mind about him.

- Publisher
You May Also Be Interested In
About "Beloved (#03 in Where The Heart Lives Series)"
Diana Brennan came west on the orphan train and was given a home with a loving couple who cherished and spoiled her. At 17, she fell hard for Tyson Applegate, the son of a wealthy mine owner. After a whirlwind courtship and marriage, Tyson took off for adventures around the world, including fighting with the Rough Riders in Cuba. Receiving no word of him for eight years, Diana's infatuation with her dashing husband died an ugly death, and she is ready to move past the old pain and marry again, just as soon as Tyson is declared legally dead. But when her husband returns, supposedly a changed man, he wants to reunite with his wife and run for the senate. While Diana suspects the election is his real reason for wanting her by his side, she agrees to maintain his home and to campaign with him, but when it is over, win or lose, she wants her freedom. He agrees with one condition----she must give him a chance to change her mind about him.
- Publisher


Meet the Author
Robin Lee Hatcher
Best-selling author Robin Lee Hatcher was born in 1951 and has written over 45 contemporary and historical novels. She has received numerous awards including the Christy Award for Excellence in Christian Fiction, the RITA Award for Best Inspirational Romance, and RWA's Lifetime Achievement Award. Her novel Catching Katie was named one of the Best Books of 2004 by the Library Journal. She is also the past President of Romance Writers of America, Inc. She currently lives in Boise, Idaho.
Other Titles In The "Where The Heart Lives" Series View All