Ben-Hur Collector's Edition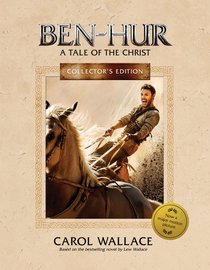 As one of the bestselling stories of all time, Lew Wallace's Ben-Hur: A Tale of the Christ has captivated and enthralled millions around the world?both in print and on the big screen. Now Lew's great-great-granddaughter has taken the old-fashioned prose of this classic novel and breathed new life into it for today's audience.

Coming to theaters in August 2016 as Ben-Hur, a major motion picture from MGM and Paramount studios, the story follows Judah Ben-Hur, a Jewish nobleman whose childhood friend Messala betrays him. Accused of trying to murder the new Roman governor in Jerusalem, Judah is sentenced to the galley ships and vows to seek revenge against the Romans and Messala. But a chance encounter with a carpenter from Nazareth sets Judah on a different path.

Rediscover the intrigue, romance, and tragedy in this thrilling adventure.

Also included: the inspiring story-behind-the-story of Lew Wallace?Indiana lawyer, author, and Civil War general.

- Publisher
You May Also Be Interested In
About "Ben-Hur Collector's Edition"
As one of the bestselling stories of all time, Lew Wallace's Ben-Hur: A Tale of the Christ has captivated and enthralled millions around the world?both in print and on the big screen. Now Lew's great-great-granddaughter has taken the old-fashioned prose of this classic novel and breathed new life into it for today's audience.

Coming to theaters in August 2016 as Ben-Hur, a major motion picture from MGM and Paramount studios, the story follows Judah Ben-Hur, a Jewish nobleman whose childhood friend Messala betrays him. Accused of trying to murder the new Roman governor in Jerusalem, Judah is sentenced to the galley ships and vows to seek revenge against the Romans and Messala. But a chance encounter with a carpenter from Nazareth sets Judah on a different path.

Rediscover the intrigue, romance, and tragedy in this thrilling adventure.

Also included: the inspiring story-behind-the-story of Lew Wallace?Indiana lawyer, author, and Civil War general.
- Publisher


Meet the Author
Carol Wallace
Carol Wallace is best known for co-authoring New York Times best-seller 'To Marry an English Lord.' Cited by Sir Julian Fellowes as an inspiration for "Downton Abbey." Other publications include more than 20 books and dozens of magazine articles, focusing on humor, social history, parenting, and fiction. The most recent title is an historical novel, 'Leaving Van Gogh', was published in April 2011. Carol is the great-great granddaughter of Lew Wallace, author of Ben-Hur: A Tale of the Christ. Adapting the original novel for contemporary audiences was both an honour and a thrill for her.