Better Than Good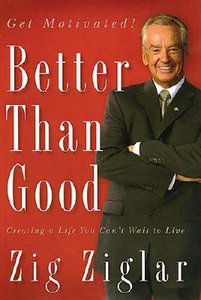 Written in Zig Ziglar's trademark style, Better Than Good isn't just about success now, excellence tomorrow, or even motivation for next month, but about making a lasting impact-an impact that goes beyond financial gains and creative partnerships. This book offers practical and spiritual vision for what life can be when we allow the power of purpose and passion to permeate our souls.

- Publisher He has spent his life helping other people to realize their dreams and experience maximum success. Now comes Zig Ziglar's high-impact work that calls you to the passion, purpose, and practical tools that can ignite the peak performance you long for. In the real-life stories Zig shares, drawn from nearly fifty years as a world-class motivational author, speaker, and businessman, you'll discover how others have risen above fear and failure to embrace the quality of life they were meant to have. Their experiences will teach you how to accomplish more than you ever dreamed possible, even as you learn: the three pillars of the Better Than Good life, new discoveries that will motivate you for life, how to develop a strategic plan that accomplishes your goals, what often keeps good people from reaching the ultimate level of productivity and happiness, ways to form better-than-good habits that can take you to new horizons of success ... and much, much more! Let this master of motivation help you clear your mind of failure-prone thinking, as together with Zig Ziglar, you redefine success and take hold of your dreams. Let him inspire you to be Better Than Good! Book jacket.

- Publisher
You May Also Be Interested In
About "Better Than Good"
Written in Zig Ziglar's trademark style, Better Than Good isn't just about success now, excellence tomorrow, or even motivation for next month, but about making a lasting impact-an impact that goes beyond financial gains and creative partnerships. This book offers practical and spiritual vision for what life can be when we allow the power of purpose and passion to permeate our souls.
- Publisher

He has spent his life helping other people to realize their dreams and experience maximum success. Now comes Zig Ziglar's high-impact work that calls you to the passion, purpose, and practical tools that can ignite the peak performance you long for. In the real-life stories Zig shares, drawn from nearly fifty years as a world-class motivational author, speaker, and businessman, you'll discover how others have risen above fear and failure to embrace the quality of life they were meant to have. Their experiences will teach you how to accomplish more than you ever dreamed possible, even as you learn: the three pillars of the Better Than Good life, new discoveries that will motivate you for life, how to develop a strategic plan that accomplishes your goals, what often keeps good people from reaching the ultimate level of productivity and happiness, ways to form better-than-good habits that can take you to new horizons of success ... and much, much more! Let this master of motivation help you clear your mind of failure-prone thinking, as together with Zig Ziglar, you redefine success and take hold of your dreams. Let him inspire you to be Better Than Good! Book jacket.
- Publisher


Meet the Author
Zig Ziglar
Zig Ziglar, Chairman of the Zig Ziglar Corporation, speaks each year to hundreds of thousands of people throughout the world. His well-known I CAN course has been taught in over 3,000 schools and businesses. He is the author of several bestselling books, including Secrets of Closing the Sale, Raising Positive Kids in a Negative World, Over the Top, and See You at the Top.