Beyond Awkward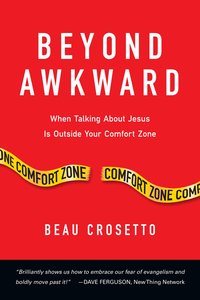 :We love to share good news with the world. We tweet about a great new restaurant, we share pictures of our newborn child and we celebrate about receiving that sought-after promotion. We are evangelists for many great things. So why don't we do the same with Jesus?Simply put, Jesus is awkward for most of us. He's like that uncle who is really funny inside the family circle, but truthfully you would rather not take him anywhere. You know Jesus is great news. He is changing your life, he is giving you purpose and he has saved your soul. So how can you move out of your comfort zone and beyond the awkwardness to share the life-transforming power of God with others?Apostolic evangelist Beau Crosetto has spent years working with college students and churchgoers to help them break through to people in their everyday lives. Here, he moves you not only beyond the awkward feelings but through them so you can confidently take hold of evangelistic opportunities you encounter everywhere you go.In this practical, personal guide, Crosetto takes into account reasons we are not sharing our faith-the negative image of slick or pushy evangelists, the fear of not knowing enough or the dread of saying the wrong thing. He also reveals a dangerous lack of vocational empowerment in most churches today, reminding us that Ephesians 4 calls us to five roles: apostle, prophet, evangelist, shepherd and teacher. Why do we seem to be empowering only the pastoring roles of shepherd and teacher? If we are serious about the Great Commission, we must be serious about activating all five.People eager to hear the good news about Jesus are waiting for you, desperate for answers and guidance. If you grab hold of that reality and learn to listen to the nudgings of the Holy Spirit, you will be prepared to push past the awkwardness and step into the God moments waiting for you.

- Publisher
You May Also Be Interested In
About "Beyond Awkward"
:We love to share good news with the world. We tweet about a great new restaurant, we share pictures of our newborn child and we celebrate about receiving that sought-after promotion. We are evangelists for many great things. So why don't we do the same with Jesus?Simply put, Jesus is awkward for most of us. He's like that uncle who is really funny inside the family circle, but truthfully you would rather not take him anywhere. You know Jesus is great news. He is changing your life, he is giving you purpose and he has saved your soul. So how can you move out of your comfort zone and beyond the awkwardness to share the life-transforming power of God with others?Apostolic evangelist Beau Crosetto has spent years working with college students and churchgoers to help them break through to people in their everyday lives. Here, he moves you not only beyond the awkward feelings but through them so you can confidently take hold of evangelistic opportunities you encounter everywhere you go.In this practical, personal guide, Crosetto takes into account reasons we are not sharing our faith-the negative image of slick or pushy evangelists, the fear of not knowing enough or the dread of saying the wrong thing. He also reveals a dangerous lack of vocational empowerment in most churches today, reminding us that Ephesians 4 calls us to five roles: apostle, prophet, evangelist, shepherd and teacher. Why do we seem to be empowering only the pastoring roles of shepherd and teacher? If we are serious about the Great Commission, we must be serious about activating all five.People eager to hear the good news about Jesus are waiting for you, desperate for answers and guidance. If you grab hold of that reality and learn to listen to the nudgings of the Holy Spirit, you will be prepared to push past the awkwardness and step into the God moments waiting for you.
- Publisher


Meet the Author
Beau Crosetto
Beau Crosetto loves helping people connect to and share Jesus right where they are. He has a MA in evangelism and leadership from Wheaton College and is the founder of the missional blog Release the APE. Beau works with students in college fraternities and sororities through the Greek ministry of InterVarsity Christian Fellowship, where he also serves as the Greater Los Angeles Director in charge of starting new Greek InterVarsity chapters on college campuses. Beau lives with his wife Kristina and their two children and has partnered in planting the church Vineyard Underground in Los Angeles.
Table Of Contents
:forewordintroduction1. Someone Is Waiting For You2. Is It Worth It?3. Evangelism Is Awkward4. They're Experience Based5. You Are In A Spiritual Battle6. Engaging The Spiritual Battle7. How To Hear God's Voice In Witnessinterlude: A Powerful Official8. God's Role: Send And Set Up9. Your Role: Follow Even If Fuzzy10. Don't Miss The Moment11. How Do I Avoid Being Pushy?12. How To Turn The Conversation To Jesusepilogue: Don't Keep Them Waiting

Appendix 1: Five Guidelines For Hearing Godappendix 2: Gig Suggestions By Themeappendix 3: Conversation Startersacknowledgmentsnotes