Beyond Boundaries Participant's Guide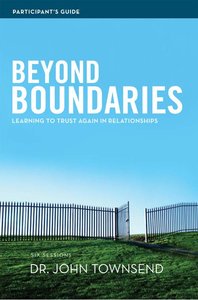 THIS PRODUCT IS DESIGNED TO BE USED WITH THE BEYOND BOUNDARIES DVD (product # 333874)

How do you know you're ready to trust again ... and what does it take to be ready? Painful relationships violate our trust, causing us to close our hearts. But to experience the freedom and love God designed us for, we eventually have to take another risk. In this 6-session DVD-based study, best-selling author Dr John Townsend takes you beyond the pain of the past to discover how to re-enter a life of intimate relationships. Whether you're trying to restore a current relationship or begin a new one, Townsend gives practical tools for establishing trust and finding the intimacy you long for. Beyond Boundaries will help you to:
- reinstate closeness with someone who broke your trust;
- discern when true change has occurred;
- reestablish appropriate connections in strained relationships;
-create a safe environment that helps you trust;
- restore former relationships to a healthy dynamic.

You can move past relational pain to trust again. Beyond Boundaries will show you how.

- Publisher
You May Also Be Interested In
About "Beyond Boundaries Participant's Guide"
THIS PRODUCT IS DESIGNED TO BE USED WITH THE BEYOND BOUNDARIES DVD (product # 333874)

How do you know you're ready to trust again ... and what does it take to be ready? Painful relationships violate our trust, causing us to close our hearts. But to experience the freedom and love God designed us for, we eventually have to take another risk. In this 6-session DVD-based study, best-selling author Dr John Townsend takes you beyond the pain of the past to discover how to re-enter a life of intimate relationships. Whether you're trying to restore a current relationship or begin a new one, Townsend gives practical tools for establishing trust and finding the intimacy you long for. Beyond Boundaries will help you to:
- reinstate closeness with someone who broke your trust;
- discern when true change has occurred;
- reestablish appropriate connections in strained relationships;
-create a safe environment that helps you trust;
- restore former relationships to a healthy dynamic.

You can move past relational pain to trust again. Beyond Boundaries will show you how.

- Publisher
- Koorong


In this six-session small group bible study (DVD/digital video sold separately), bestselling author Dr. John Townsend helps you discover a simple path to regain the intimacy and fulfilling closeness that every person needs. Difficult relationships can damage our ability to trust, causing us to shut down. But God designed us to experience freedom and love. To live this way, we all eventually need to take a risk.
After six books on Boundaries, bestselling author Dr. John Townsend realized that, though people who experienced tough relationships may put up an emotional all to protect themselves, they often have no idea how to reconnect - either with the person who has damaged their trust, or with new relationships.
Sessions include:
Understanding the Problem (18:00)
Knowing When You're Ready, Part 1(16:00)
Knowing When You're Ready, Part 2 (15:00)
Knowing When the Other Person is Ready (17:00)
Moving into Relationship, Part 1 (17:00)
Moving into Relationship, Part 2 (18:00)
Designed for use with the Beyond Boundaries Video Study 97801310684480 (sold separately).
- Publisher
Meet the Author
John Townsend
Dr. John Townsend (Psy.D., Rosemead Graduate School of Psychology) is a psychologist, popular speaker, radio host and the bestselling author and co-author of numerous books, including the Gold Medallion award-winning Boundaries and God Will Make a Way. He is co-founder of the Cloud-Townsend Clinic in Southern California.