Beyond Corista (#03 in Shadowside Trilogy Series)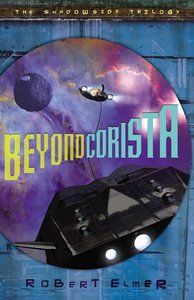 Those who live in lush comfort on the bright side of the small planet Corista have plundered the water resources of Shadowside for centuries, ignoring the existence of Shadowside's inhabitants, who are nothing more than animals. Or so the Brightsiders have been taught. It will take a special young woman to expose the truth---and to help avert the war that is sure to follow. A course they can't choose, a warning no one will believe... Oriannon and her friends Margus and Wist hurtle through space on a dangerous mission, guided by the pilot stone. Their enemy, Sola, is on board as well, and Oriannon soon begins to regret rescuing the blind woman from battle. As the odd crew flies from way station to way station, Oriannon delivers the warning she received from Jesmet---a race called the Troikans is coming to destroy Corista. At each location, Oriannon is met with the same disbelief: no one has seen a Troikan in years. Soon, even Oriannon begins to wonder if the threat is real. Are her visits from Jesmet only a hallucination? Oriannon must find the faith to race toward a destination only she can see.

- Publisher
You May Also Be Interested In
About "Beyond Corista (#03 in Shadowside Trilogy Series)"
Those who live in lush comfort on the bright side of the small planet Corista have plundered the water resources of Shadowside for centuries, ignoring the existence of Shadowside's inhabitants, who are nothing more than animals. Or so the Brightsiders have been taught. It will take a special young woman to expose the truth---and to help avert the war that is sure to follow. A course they can't choose, a warning no one will believe... Oriannon and her friends Margus and Wist hurtle through space on a dangerous mission, guided by the pilot stone. Their enemy, Sola, is on board as well, and Oriannon soon begins to regret rescuing the blind woman from battle. As the odd crew flies from way station to way station, Oriannon delivers the warning she received from Jesmet---a race called the Troikans is coming to destroy Corista. At each location, Oriannon is met with the same disbelief: no one has seen a Troikan in years. Soon, even Oriannon begins to wonder if the threat is real. Are her visits from Jesmet only a hallucination? Oriannon must find the faith to race toward a destination only she can see.
- Publisher


Meet the Author
Robert Elmer
Robert is the author of two updated spiritual classics, Practicing God's Presence and Rediscovering Daily Graces (NavPress) and co-author of Off My Case for Kids (Zondervan/HarperCollins) with Christian apologist Lee Strobel. He is a graduate of Simpson College and St. Mary's College in California, with a B.A. degree in communications and Bible, as well as an elementary teaching credential. He has also written fiction for adults--Like Always, The Duet, The Recital, and The Celebrity, as well as seven popular youth fiction series, including The Wall, with combined sales of over a half million.
Other Titles In The "Shadowside Trilogy" Series View All