Beyond the Social Maze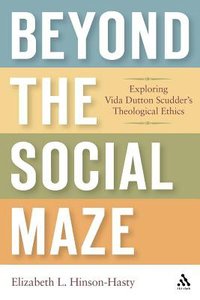 An examination of Vida Dutton Scudder's theological ethics. >
- Publisher
Beyond the Social Maze is the first thoroughgoing exploration of Vita Dutton Scudder's theological ethics. She taught at Wellesley College for more than forty years and chartered new territories in both theoretical and practical aspects of movements for social reform. She was deeply concerned about the role that Christians should play in alleviating social distress, and she considered herself part of a broad coalition of enlightened Protestants who directed the attention of churches toward their moral obligation to mitigate the hardship of the working class. Societal restrictions prevented Scudder from considering a professional career as a priest or seminary professor; nonetheless, a highly developed theological vision inspired her passion for social reform, socialist causes, and commitment to and involvement in the church. Historians and theologians have paid too little attention to the theological vision that fueled Scudder's social ethics. Hinson-Hasty remedies that. She demonstrates the ways that Scudder brought a distinctive perspective to bear on the social gospel project. Her theological perspective differed from that of Walter Rauschenbusch, the most famous proponent of the movement. Like him, she aimed to rally Christian energies to work toward transforming society in light of a commitment to the Kingdom of God. However, unlike Rauschenbusch, who emphasized the teaching of Jesus and the prophets, an explicit trinitarian emphasis informed Scudder's understanding of the Kingdom and her social outlook. She appealed to Divine Society as a model for justice and equality in her own context. Her distinctive vision integrated her Anglican theological convictions with an impulse toward practical reform. >
- Publisher
You May Also Be Interested In
About "Beyond the Social Maze"
An examination of Vida Dutton Scudder's theological ethics. >
- Publisher


Beyond the Social Maze is the first thoroughgoing exploration of Vita Dutton Scudder's theological ethics. She taught at Wellesley College for more than forty years and chartered new territories in both theoretical and practical aspects of movements for social reform. She was deeply concerned about the role that Christians should play in alleviating social distress, and she considered herself part of a broad coalition of enlightened Protestants who directed the attention of churches toward their moral obligation to mitigate the hardship of the working class. Societal restrictions prevented Scudder from considering a professional career as a priest or seminary professor; nonetheless, a highly developed theological vision inspired her passion for social reform, socialist causes, and commitment to and involvement in the church. Historians and theologians have paid too little attention to the theological vision that fueled Scudder's social ethics. Hinson-Hasty remedies that. She demonstrates the ways that Scudder brought a distinctive perspective to bear on the social gospel project. Her theological perspective differed from that of Walter Rauschenbusch, the most famous proponent of the movement. Like him, she aimed to rally Christian energies to work toward transforming society in light of a commitment to the Kingdom of God. However, unlike Rauschenbusch, who emphasized the teaching of Jesus and the prophets, an explicit trinitarian emphasis informed Scudder's understanding of the Kingdom and her social outlook. She appealed to Divine Society as a model for justice and equality in her own context. Her distinctive vision integrated her Anglican theological convictions with an impulse toward practical reform. >
- Publisher
Meet the Author
Elizabeth Hinson-Hasty
Elizabeth Hinson-Hasty is Associate Professor of Theology at Bellarmine University in Louisville, Kentucky. An ordained minister in the Presbyterian Church (U.S.A.), she is the coeditor of "Prayers for a New Social Awakening" and "To Do Justice: Engaging Progressive Christians in Social Action" and the author of "Beyond the Social Maze: Exploring Vida Dutton Scudder's Theological Ethics".
Table Of Contents
Preface; Chapter; 1. Why Vida Dutton Scudder?; A Theological Ethicist And A Social Gospeler; "i Am No Theologian"; A Growing Appreciation For Her Work; A Systematic Exploration Of Scudder's Thought; 2. Vida Dutton Scudder's Theological Vision; Concepts Of God Relevant To The Modern Era; A Social Mystic; The Trinity: A Cooperative Vision Of God; Christ; Jesus And His Teachings About The Kingdom Of God; Jesus' Sacrifice And What His Suffering Meant; The Church And The World; Self-inspired Community; Democratic Impulse In The Church; 3. Character And The Cooperative Commonwealth; Character In A Competitive Environment; Socialism: "a Stream Nearing A Waterfall"; Scudder's Experience Of Working-class Life; An Ethics Of Inequality; Creating A Better Moral Environment; Freedom, Power, And Shaping Moral Character. Scudder's Vision Of The Cooperative Commonwealth; The Ethics Of Equality; The Church And The Cooperative Commonwealth; The Church And The Ethics Of Inequality; The Church And The Ethics Of Equality; Women And The Cooperative Commonwealth; College Women And Social Need; Women And The New Social Order; 4. Scudder's Moral Reasoning, Sources, And Norms; An Environment That Nurtured "instincts Of Defiant; Self-protection"; Created In God's Cooperative Image; Social Responsibility And Essential Human Nature; "new Womanhood"; F. D. Maurice's Theology And Scudder's; View Of Human Nature; Communities That Embodied God's; Cooperative Image; Jesus And St. Francis: Embodied Equality,; Self-sacrifice, And Solidarity; Jesus' Embodiment Of Key Values; St. Francis Lived The Way Of The Cross; Cooperative Commonwealth: Scudder's Loyalty; Policies For A Cooperative Commonwealth; Labor Regulation; Suffrage For Women A Duty, Not A Right; From Pacifism Of The Future To Pacifism As Resistance; No Longer In Doubt; 5. Scudder's Social Vision: An Enduring Legacy; The Impact Of Her Work; Scudder's Enduring Legacy; The Corporate Church As An Instrument Of Redemption; An Undercurrent Of Realism; Concluding Comments; Bibliography.