Bible Stories For Strong Stomachs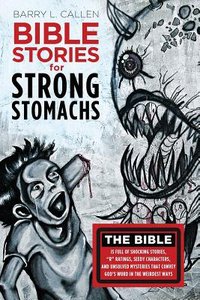 Intriguing and eye-opening interpretations of the most scandalous Bible stories that are puzzling and even shocking, maybe not even worthy of being in the Bible. A serious and sometimes whimsical taking of readers into the most awkward and even repulsive biblical narratives to find answers to the difficult questions facing believers today. Here is an outstanding resource for young adults, Sunday school classes, and quest groups that will provoke real conversations about the Bible and how the faithful should be living their lives. These twenty-eight Bible stories, strictly for adults, would make great sermon material for the pastor who has the courage and wisdom to try. They surely are in the Bible for some important reason. You are warned to approach with caution. ""This is not an introduction to the Bible or an academic book about the Bible--and that's OK since we don't need more of either. It's a provocative and very different book for those who have real questions about big issues and want biblical answers."" --Thomas J. Oord, author of The Nature of Love and The Uncontrolling Love of God ""College students crave authenticity. The real, the honest, the unadorned are what communicate because these speak of life as it is truly lived--with all of its guts and glory. Callen's bold wrestling with some of the most unattractive and even repulsive stories in Scripture will appeal to young adults grappling with these same realities in the world around them and even in the mirror before them."" --Todd Faulkner, Campus Pastor, Anderson University ""Twenty-eight especially difficult biblical passages are grouped logically and looked at openly and honestly. The approach is down-to-earth, nonthreatening, and the biblical interpretation is sound. The subjects raised are critical for today's church. While they raise questions not easily answered, here is a great place to begin trying."" --Richard P. Thompson, Professor of New Testament, Northwest Nazarene University, Nampa, ID ""Intriguing, unique, and eye-opening interpretation of Bible stories that seem puzzling and even shocking. An outstanding resource that will provoke 'real' conversations about the Bible."" --Kimberly Dirmann, Southwest District Supervisor of the Foursquare Church ""The current generation of young adults comes to church wanting to know what the Bible says and means for their lives. Now a prolific voice in theological circles provides a glimpse into many of the difficult Bible texts and does so in a very practical and understandable way. I am eager to share these stories with my congregation."" --Marty Grubbs, senior pastor, Crossings Community Church, Oklahoma City, OK ""Here is a whimsical approach to engaging readers in rediscovering the Bible, masterfully bringing to life the most scandalous biblical narratives. I recommend this book for helping Christian high school students read their Bibles with interest and find God's way for their lives in this troubled world."" --Joshua D. Reichard, Vice President for Academic Affairs, Valley Christian Schools, Youngstown, OH ""This is a gem, but not one for the fainthearted. With daring and humor, Dr. Callen tackles some very difficult passages in God's Word."" --Dale V. Wayman, Counselor Educator, Capella University Barry L. Callen is the Dean and Professor of Christian Studies Emeritus of Anderson University, editor of Aldersgate Press, and corporate secretary of Horizon International (a ministry to AIDS orphans in Africa). He has authored dozens of books, including Catch Your Breath! Exhaling Death and Inhaling Life.

- Publisher
You May Also Be Interested In
About "Bible Stories For Strong Stomachs"
Intriguing and eye-opening interpretations of the most scandalous Bible stories that are puzzling and even shocking, maybe not even worthy of being in the Bible. A serious and sometimes whimsical taking of readers into the most awkward and even repulsive biblical narratives to find answers to the difficult questions facing believers today. Here is an outstanding resource for young adults, Sunday school classes, and quest groups that will provoke real conversations about the Bible and how the faithful should be living their lives. These twenty-eight Bible stories, strictly for adults, would make great sermon material for the pastor who has the courage and wisdom to try. They surely are in the Bible for some important reason. You are warned to approach with caution. ""This is not an introduction to the Bible or an academic book about the Bible--and that's OK since we don't need more of either. It's a provocative and very different book for those who have real questions about big issues and want biblical answers."" --Thomas J. Oord, author of The Nature of Love and The Uncontrolling Love of God ""College students crave authenticity. The real, the honest, the unadorned are what communicate because these speak of life as it is truly lived--with all of its guts and glory. Callen's bold wrestling with some of the most unattractive and even repulsive stories in Scripture will appeal to young adults grappling with these same realities in the world around them and even in the mirror before them."" --Todd Faulkner, Campus Pastor, Anderson University ""Twenty-eight especially difficult biblical passages are grouped logically and looked at openly and honestly. The approach is down-to-earth, nonthreatening, and the biblical interpretation is sound. The subjects raised are critical for today's church. While they raise questions not easily answered, here is a great place to begin trying."" --Richard P. Thompson, Professor of New Testament, Northwest Nazarene University, Nampa, ID ""Intriguing, unique, and eye-opening interpretation of Bible stories that seem puzzling and even shocking. An outstanding resource that will provoke 'real' conversations about the Bible."" --Kimberly Dirmann, Southwest District Supervisor of the Foursquare Church ""The current generation of young adults comes to church wanting to know what the Bible says and means for their lives. Now a prolific voice in theological circles provides a glimpse into many of the difficult Bible texts and does so in a very practical and understandable way. I am eager to share these stories with my congregation."" --Marty Grubbs, senior pastor, Crossings Community Church, Oklahoma City, OK ""Here is a whimsical approach to engaging readers in rediscovering the Bible, masterfully bringing to life the most scandalous biblical narratives. I recommend this book for helping Christian high school students read their Bibles with interest and find God's way for their lives in this troubled world."" --Joshua D. Reichard, Vice President for Academic Affairs, Valley Christian Schools, Youngstown, OH ""This is a gem, but not one for the fainthearted. With daring and humor, Dr. Callen tackles some very difficult passages in God's Word."" --Dale V. Wayman, Counselor Educator, Capella University Barry L. Callen is the Dean and Professor of Christian Studies Emeritus of Anderson University, editor of Aldersgate Press, and corporate secretary of Horizon International (a ministry to AIDS orphans in Africa). He has authored dozens of books, including Catch Your Breath! Exhaling Death and Inhaling Life.
- Publisher


Meet the Author
Barry L Callen
Barry L. Callen is professor emeritus of Anderson University and secretary of the Wesleyan Theological Society.