Biblical Counseling Library (9781455562596 Series)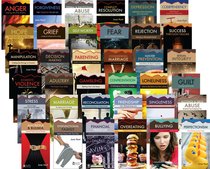 "Save over $40 when you buy all 36 June Hunt Hope for the Heart Biblical Counseling Library Minibooks. A $143 value for just $99.

. Adultery: The Snare of an Affair
. Alcohol and Drug Abuse: Breaking Free and Staying Free
. Anger: Facing the Fire Within
. Anorexia And Bulimia: Control That Is Out Of Control
. Bullying: Bully No More
. Codependency: Balancing an Unbalanced Relationship
. Conflict Resolution: Solving Your People Problems
. Confrontation: Challenging Others to Change
. Considering Marriage: Are You Fit to Be Tied?
. Decision Making: Discerning the Will of God
. Depression: Emerging from Darkness into the Dawn
. Domestic Violence: Assault on a Woman's Worth
. Dyfunctional Family: Making Peace With Your Past
. Fear: No Longer Afraid
. Financial Freedom: How To Manage Money Wisely
. Forgiveness: The Freedom to Let Go
. Friendship: Iron Sharpening Iron
. Gambling: Betting Your Life Away
. Grief: Living at Peace with Loss
. Guilt: Living Guilt-Free
. Hope: The Anchor of Your Soul
. Loneliness: How To Be Alone but Not Lonely
. Manipulation: Cutting the Strings of Control
. Marriage: To Have and To Hold
. Parenting: Steps to Successful Parenting
. Perfectionism: The Performance Trap
. Overeating: Freedom From Food Fixation
. Reconciliation: Restoring Broken Relationships
. Rejection: Healing a Wounded Heart
. Self-Worth: Discover Your God-Given Worth
. Sexual Integrity: Balancing Your Passion with Purity
. Singleness: How to be Single & Satisfied
. Stress: How to Cope at the End of Your Rope
. Success through Failure
. Suicide Prevention: Hope When Life Seems Hopeless
. Verbal and Emotional Abuse: Victory over Verbal and Emotional Abuse"

- Publisher
You May Also Be Interested In
About "Biblical Counseling Library (9781455562596 Series)"
"Save over $40 when you buy all 36 June Hunt Hope for the Heart Biblical Counseling Library Minibooks. A $143 value for just $99.

. Adultery: The Snare of an Affair
. Alcohol and Drug Abuse: Breaking Free and Staying Free
. Anger: Facing the Fire Within
. Anorexia And Bulimia: Control That Is Out Of Control
. Bullying: Bully No More
. Codependency: Balancing an Unbalanced Relationship
. Conflict Resolution: Solving Your People Problems
. Confrontation: Challenging Others to Change
. Considering Marriage: Are You Fit to Be Tied?
. Decision Making: Discerning the Will of God
. Depression: Emerging from Darkness into the Dawn
. Domestic Violence: Assault on a Woman's Worth
. Dyfunctional Family: Making Peace With Your Past
. Fear: No Longer Afraid
. Financial Freedom: How To Manage Money Wisely
. Forgiveness: The Freedom to Let Go
. Friendship: Iron Sharpening Iron
. Gambling: Betting Your Life Away
. Grief: Living at Peace with Loss
. Guilt: Living Guilt-Free
. Hope: The Anchor of Your Soul
. Loneliness: How To Be Alone but Not Lonely
. Manipulation: Cutting the Strings of Control
. Marriage: To Have and To Hold
. Parenting: Steps to Successful Parenting
. Perfectionism: The Performance Trap
. Overeating: Freedom From Food Fixation
. Reconciliation: Restoring Broken Relationships
. Rejection: Healing a Wounded Heart
. Self-Worth: Discover Your God-Given Worth
. Sexual Integrity: Balancing Your Passion with Purity
. Singleness: How to be Single & Satisfied
. Stress: How to Cope at the End of Your Rope
. Success through Failure
. Suicide Prevention: Hope When Life Seems Hopeless
. Verbal and Emotional Abuse: Victory over Verbal and Emotional Abuse"
- Publisher


Meet the Author
June Hunt
June Hunt is a biblical counselllor and the founder of the award-winning Hope for the Heart radio program, heard on more than 900 radio outlets worldwide. For decades, June has counselled people, offering them Bible-based hope and practical help for today's problems - emotional, relational, and spiritual. She is the author of numerous popular resources for people seeking help, including over thirty topical Hope For The Heart books, as well as the 31-day devotional Seeing Yourself Through God's Eyes, which is often used in counselling offices, churches and small group Bible studies.
Other Titles In The "9781455562596" Series View All