Biblical Hermeneutics: Five Views (Spectrum Series)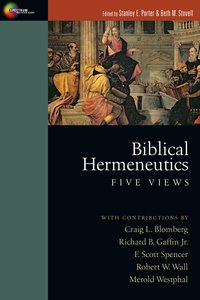 Five experts in biblical hermeneutics gather here to state and defend their approach to the discipline. Contributors include: Craig Blomberg with the historical-critical/grammatical approach, Richard Gaffin with the redemptive-historical approach, Scott Spencer with the literary/postmodern approach, Robert Wall with the canonical approach and Merold Westphal with the philosophical/theological approach.

- Publisher
You May Also Be Interested In
About "Biblical Hermeneutics: Five Views (Spectrum Series)"
Five experts in biblical hermeneutics gather here to state and defend their approach to the discipline. Contributors include: Craig Blomberg with the historical-critical/grammatical approach, Richard Gaffin with the redemptive-historical approach, Scott Spencer with the literary/postmodern approach, Robert Wall with the canonical approach and Merold Westphal with the philosophical/theological approach.
- Publisher


Meet the Authors
Stanley E Porter (Ed)
Stanley E. Porter (Ph.D., University of Sheffield) is president, dean, and professor of New Testament at McMaster Divinity College, Hamilton, Ontario. He is the author of many books on the New Testament and the editor of more than forty other volumes, including Reading the Gospels Today.
Some of his significant works include Idioms of the Greek New Testament; Paul in Acts; Fundamentals of New Testament Greek; The Criteria for Authenticity in Historical-Jesus Research; The Book of Acts (New International Greek Testament Commentary); The Pastoral Epistles (Baker Exegetical Commentary on the New Testament); Verbal Aspect in the Greek of the New Testament, with Reference to Tense and Mood (Studies in Biblical Greek ; Vol 1) and Romans (Readings: A New Biblical Commentary).
Koorong -Editorial Review.
Table Of Contents
Five Experts In Biblical Hermeneutics Gather Here To State And Defend Their Approach To The Discipline. Contributors Include: Craig Blomberg With The Historical-critical/grammatical Approach, Richard Gaffin With The Redemptive-historical Approach, Scott Spencer With The Literary/postmodern Approach, Robert Wall With The Canonical Approach And Merold Westphal With The Philosophical/theological Approach.

Preface

Introduction: Trajectories In Biblical Hermeneutics

Stanley E. Porter And Beth M. Stovell

part One: Five Views Of Biblical Hermeneutics

1. The Historical-critical/grammatical View

Craig L. Blomberg

2. The Literary/postmodern View

F. Scott Spencer

3. The Philosophical/theological View

Merold Westphal

4. The Redemptive-historical View

Richard B. Gaffin Jr.

5. The Canonical View

Robert W. Wall

part Two: Responses

6. The Historical-critical/grammatical Response

Craig L. Blomberg

7. The Literary/postmodern Response

F. Scott Spencer

8. The Philosophical/ Theological Response

Merold Westphal

9. The Redemptive-historical Response

Richard B. Gaffin Jr.

10. The Canonical Response

Robert W. Wall

Interpreting Together: Synthesizing Five Views Of Biblical Hermeneutics

Stanley E. Porter And Beth M. Stovell

List Of Contributors

Name And Subject Index

Scripture Index
Other Titles In The "Spectrum Series" Series View All