Biblical Preaching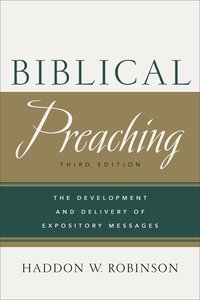 This bestselling text by Haddon Robinson, considered by many to be the "teacher of preachers," has sold over 300,000 copies and is a contemporary classic in the field. It offers students, pastors, and Bible teachers expert guidance in the development and delivery of expository sermons. This new edition has been updated throughout and includes helpful exercises.

Praise for the Second Edition

Named "One of the 25 Most Influential Preaching Books of the Past 25 Years" by Preaching

"[An] outstanding introduction to the task of preparing and presenting biblical sermons. More than any other book of the past quarter century, Biblical Preaching has profoundly influenced a generation of evangelical preachers."--Preaching

- Publisher
You May Also Be Interested In
About "Biblical Preaching"
This bestselling text by Haddon Robinson, considered by many to be the "teacher of preachers," has sold over 300,000 copies and is a contemporary classic in the field. It offers students, pastors, and Bible teachers expert guidance in the development and delivery of expository sermons. This new edition has been updated throughout and includes helpful exercises.

Praise for the Second Edition

Named "One of the 25 Most Influential Preaching Books of the Past 25 Years" by Preaching

"[An] outstanding introduction to the task of preparing and presenting biblical sermons. More than any other book of the past quarter century, Biblical Preaching has profoundly influenced a generation of evangelical preachers."--Preaching
- Publisher


Meet the Author
Haddon Robinson
Haddon W. Robinson (Ph.D., University of Illinois) is the Harold John Ockenga Distinguished Professor of Preaching and Presdent of Gordon-Conwell Theological Seminary in South Hamilton, Massachusetts. His book, Biblical Preaching, has sold more than 200,000 copies and has been used extensively in Bible colleges and seminaries since 1980.
Table Of Contents
This Bestselling Text By Haddon Robinson, Considered By Many To Be The "teacher Of Preachers," Has Sold Over 300,000 Copies And Is A Contemporary Classic In The Field. It Offers Students, Pastors, And Bible Teachers Expert Guidance In The Development And Delivery Of Expository Sermons. This New Edition Has Been Updated Throughout And Includes Helpful Exercises.

praise For The Second Edition

named "one Of The 25 Most Influential Preaching Books Of The Past 25 Years" By preaching

"[an] Outstanding Introduction To The Task Of Preparing And Presenting Biblical Sermons. More Than Any Other Book Of The Past Quarter Century, biblical Preaching Has Profoundly Influenced A Generation Of Evangelical Preachers."--preaching