Big Picture Parents: Ancient Wisdom For Modern Life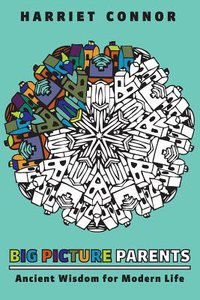 Shortlisted for the 2017 Australian Christian Book of the Year Award

Being a parent in the modern world is tough. We are often overwhelmed with fear about damaging our children, guilt about our imperfections, and confusion about our role. Harriet Connor knows these feelings well. But hers is not just another parenting book full of "shoulds and shouldn'ts" to make you feel worse. Rather, she invites you to step back and consider the bigger picture:

What is the purpose of life and parenthood?
What are our human limitations?
How can we cope with our guilt and fear?
What are our family's values and how do we pass them on?
What is our family's structure and place within the wider community?

When she was desperate for answers, Harriet Connor turned to the ancient wisdom of her ancestors - the Bible. She went looking for little pieces of grandmotherly advice, but what she found was a grand vision - a big picture - that made sense of both life and parenthood.

Whether you are new to the Bible or have read it before, you will not regret taking time to reflect on its message, which has given comfort and guidance to generations of parents just like you.

ENDORSEMENTS
"I wish this book had been written when I first became a mother almost thirty years ago. Big Picture Parents is a thoroughly readable, wise, and encouraging book. It provides a helpful biblical framework and a fresh way of thinking about being a parent. I will be giving it to any new parent or about-to-become parent to help them as they make the enormous change from life before children to life after delivery. This book will be a blessing to all parents."
--Sarah Condie, pastor; Co-director, the Mental Health and Pastoral Care Institute, Sydney, Australia

"'All we want is for our children to be happy' is the absolute unchallenged axiom of our time. But what if, ironically, by chasing this elusive goal we are making not just our children, but ourselves less happy? This book gives parents a wise framework for understanding our children, ourselves, and our world. In doing so, not only will the parent be happier, but so also will the child."
--Sam Chan, national communicator, City Bible Forum, Australia; public speaker; theologian; author of Preaching as the Word of God

"This is a refreshing book, written with humor and grace. It is full of biblical wisdom and its practical outworkings, for all kinds of families."
--Kirsten Birkett, Latimer Research Fellow, Oak Hill College, UK; author of Resilience - A Spiritual Project and The Essence of Family

"Parenting is one of those extremely important tasks that really should require a trial run. But by its very nature parents cannot have a trial run. Perhaps the best they can do is to get the whole task of parenting into perspective. Big Picture Parents is extremely useful for developing an overall perspective that will position parents in the best place to nurture their children. It is to be highly commended."
--Michael Hill, former vice-principal and lecturer in Ethics, Moore Theological College, Sydney; author of The Heart of Marriage and The How and Why of Love

"A timely book for today's culture, Big Picture Parents is a lifeline for parents drowning in information overload. In a society that constantly twists the values, roles, and priorities of parents, Harriet Connor guides our feet to the solid ground of God's Word. She masterfully uses Scripture to lay an unshakable foundation for building an eternal parenting philosophy. If your head is spinning in self-doubt, take a step back and let this valuable resource renew your perspective." --Sara Wallace, author of The Gospel-Centered Mom

"Big Picture Parents is a welcome addition to the pantheon of parenting wisdom. Rather than taking us down the 'practical' burrow, Harriet Connor lifts our eyes to the big picture of parenting: what God's purposes are for people, parents, and families, and how that picture ought to shape our parenting convictions and practices. I am an unashamedly 'big picture' person and this book warmed my heart!"
--Lesley Ramsay, bible teacher, author of A Taste for Life; co-author of What Women Really Need
You May Also Be Interested In
About "Big Picture Parents: Ancient Wisdom For Modern Life"
Shortlisted for the 2017 Australian Christian Book of the Year Award

Being a parent in the modern world is tough. We are often overwhelmed with fear about damaging our children, guilt about our imperfections, and confusion about our role. Harriet Connor knows these feelings well. But hers is not just another parenting book full of "shoulds and shouldn'ts" to make you feel worse. Rather, she invites you to step back and consider the bigger picture:

What is the purpose of life and parenthood?
What are our human limitations?
How can we cope with our guilt and fear?
What are our family's values and how do we pass them on?
What is our family's structure and place within the wider community?

When she was desperate for answers, Harriet Connor turned to the ancient wisdom of her ancestors - the Bible. She went looking for little pieces of grandmotherly advice, but what she found was a grand vision - a big picture - that made sense of both life and parenthood.

Whether you are new to the Bible or have read it before, you will not regret taking time to reflect on its message, which has given comfort and guidance to generations of parents just like you.

ENDORSEMENTS
"I wish this book had been written when I first became a mother almost thirty years ago. Big Picture Parents is a thoroughly readable, wise, and encouraging book. It provides a helpful biblical framework and a fresh way of thinking about being a parent. I will be giving it to any new parent or about-to-become parent to help them as they make the enormous change from life before children to life after delivery. This book will be a blessing to all parents."
--Sarah Condie, pastor; Co-director, the Mental Health and Pastoral Care Institute, Sydney, Australia

"'All we want is for our children to be happy' is the absolute unchallenged axiom of our time. But what if, ironically, by chasing this elusive goal we are making not just our children, but ourselves less happy? This book gives parents a wise framework for understanding our children, ourselves, and our world. In doing so, not only will the parent be happier, but so also will the child."
--Sam Chan, national communicator, City Bible Forum, Australia; public speaker; theologian; author of Preaching as the Word of God

"This is a refreshing book, written with humor and grace. It is full of biblical wisdom and its practical outworkings, for all kinds of families."
--Kirsten Birkett, Latimer Research Fellow, Oak Hill College, UK; author of Resilience - A Spiritual Project and The Essence of Family

"Parenting is one of those extremely important tasks that really should require a trial run. But by its very nature parents cannot have a trial run. Perhaps the best they can do is to get the whole task of parenting into perspective. Big Picture Parents is extremely useful for developing an overall perspective that will position parents in the best place to nurture their children. It is to be highly commended."
--Michael Hill, former vice-principal and lecturer in Ethics, Moore Theological College, Sydney; author of The Heart of Marriage and The How and Why of Love

"A timely book for today's culture, Big Picture Parents is a lifeline for parents drowning in information overload. In a society that constantly twists the values, roles, and priorities of parents, Harriet Connor guides our feet to the solid ground of God's Word. She masterfully uses Scripture to lay an unshakable foundation for building an eternal parenting philosophy. If your head is spinning in self-doubt, take a step back and let this valuable resource renew your perspective." --Sara Wallace, author of The Gospel-Centered Mom

"Big Picture Parents is a welcome addition to the pantheon of parenting wisdom. Rather than taking us down the 'practical' burrow, Harriet Connor lifts our eyes to the big picture of parenting: what God's purposes are for people, parents, and families, and how that picture ought to shape our parenting convictions and practices. I am an unashamedly 'big picture' person and this book warmed my heart!"
--Lesley Ramsay, bible teacher, author of A Taste for Life; co-author of What Women Really Need
- Koorong


Meet the Author
Harriet Connor
Harriet Connor juggles three roles: she is a wife, mother of three, and Bible teacher. She holds degrees in International Studies (Languages) and Theology.
Customer Reviews For "Big Picture Parents: Ancient Wisdom For Modern Life"
Write Your Own Review
True parenting priorities
By Lauren Watt,

Jan 19 2018
When I first became a parent 4 years ago, I was overwhelmed by all the advice, articles, routines, blogs and down right commercialism that prays on a new parent's fears. Big Picture Parents is the antidote to ALL of that. Beginning by reassuring parents that we will indeed not scar our children for life if we make a mistake, it goes on to assure us we will make mistakes, because we live in a fallen world. Teaching our children forgiveness and grace in this fallen world, along with our other Christian heritage and values is more important than all the other sleepfeedingeducation decisions we make for our children everyday. 
As we anticipate the birth of our second child, literally any day now, I am excited to face this new crazy time with peace and contentment knowing my real priorities and that God is in control. 
---
Full of Grace
By K Louise,

Dec 27 2017
In the day to day struggle of negotiating the tricky path of step-parenting, I found this book very refreshing. It lifted my eyes up to the truths of the gospel and how they apply to our parenting. The result was challenging and full of grace. 

---
Favourite parenting book! Must read for all parents particularly those in early part of parenting journey.
By Rachel Morgan,

Dec 27 2017
Thank you for writing this book Harriet!! I read this months ago but its message has stayed clearly with me, encouraging me and spuring me on to keep a Godly perspective in my role as a parent. How easy it is to get "caught up on the tiny details- all the shoulds and shouldn't"- that we forget to step back and ask ourselves what parenthood is all about."p4-5.This book has helped me step back, relax in God's provision, and focus and put more energy in what really matters. I absolutely LOVE how the author went about writing this book too - going systematically through the Bible from beginning to end to find it's teaching, wisdom and focus on the topic of parenting. 
---
Big Picture Parents
By Sarah,

Nov 01 2017
I have really enjoyed reading Harriet Connor's "Big Picture Parents". This book has helped me to become more confident as a parent and has equipped me with the tools to make parenting decisions based on the values and wisdom of the Bible. Harriet writes with great honesty about her own personal journey of being a parent and uses her thorough knowledge of the Bible to explain God's values and how we can pass these on to our children. 
After reading "Big Picture Parents", I now have a much greater understanding of my purpose and role as a parent and I thank Harriet for the time and energy she has put into writing this much needed book. 
---
Being parents in an imperfect world
By Hazel Nisbet,

Sep 11 2017
Thank you Harriet Connor for a parenting book that did not leave me feeling guilty about my children! I was encouraged to not panic, rather to take stock, look at where we are not meeting our values, take charge and consider how we can get there.
I took my time with this book because its diamond juice! It inspired me to consider my relationship with God and with my husband as key to parenting and I found the section on 'belonging to a wider community- God's big family' significant and useful as I consider my role beyond my own children.
The book looks at:
-Our big purpose (the problems with happiness, being made for connection with God, creation, and each other and the purpose of parenthood);
-Our Big problem (falling short of our big purpose, being parents in an imperfect world, becoming children of God);
-Our big values (establishing our family values, God's big values-love, how to pass on our values)
-Our big family (modern nuclear families, the children of Abraham, The children of God)
The questions in the back for group study are useful. Our church used it as a tool box time theme. It could be good too for a parenting book club or to read between mentor and mentoree.

{{review.title}}
By {{review.author.name}},

{{review.reviewCreatedDate | date:'MMM dd yyyy'}}

{{reviewdescription}}
{{review.text}}
---