Bill Bright - Dare to Be Different (Trail Blazers Series)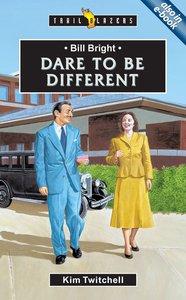 $

12.99

$

10.39
You Save: $2.60 (20%)
Paperback
Nobody would have thought a scruffy rancher's son would grow up to head one of the biggest missions that America, or the world had ever known - Campus Crusade.

- Publisher There were seven kids in the Bright family so every morning fourteen tackety boots would march off down the lane to the one roomed school house and then later in the afternoon the same scruffy boots would meander back again. At the back of the group a young lad would dawdle curious, quiet and a little shy ... his name was Bill. Few would have thought that this scruffy little rancher's son would grow up to be a smart, confident, well spoken young gentleman. Nobody would have thought that he would grow up to head up one of the biggest missions that America, or the world had ever k known. Campus Crusade was just the beginning though. Soon there were missions to students, the military, athletes and Hollywood actors - and then Bill was involved in making a film himself - a film about the one he loved above all else - Jesus.

- Publisher The themes of the second book in this series are Missionary tales and remarkable conversions. Other themes covered in the series are Living for God and the value of scripture Missionary Tales and Remarkable Conversions; Honouring God and Dramatic Deliverances; Faithful Witnesses and Childhood Faith.Joel Beeke and Diana Kleyn have taken a selection of real life incidents and fictional narratives and developed them into a series of devotional books for children aged 712.Scriptural references throughout the book use the King James Version of the Bible and the questions are also based on this version.The stories themselves include a good mixture of historical adventure childhood experiences remarkable instances of conversion and dramatic edge of your seat rescues from danger.

- Publisher
You May Also Be Interested In
About "Bill Bright - Dare to Be Different (Trail Blazers Series)"
Nobody would have thought a scruffy rancher's son would grow up to head one of the biggest missions that America, or the world had ever known - Campus Crusade.
- Publisher

There were seven kids in the Bright family so every morning fourteen tackety boots would march off down the lane to the one roomed school house and then later in the afternoon the same scruffy boots would meander back again. At the back of the group a young lad would dawdle curious, quiet and a little shy ... his name was Bill. Few would have thought that this scruffy little rancher's son would grow up to be a smart, confident, well spoken young gentleman. Nobody would have thought that he would grow up to head up one of the biggest missions that America, or the world had ever k known. Campus Crusade was just the beginning though. Soon there were missions to students, the military, athletes and Hollywood actors - and then Bill was involved in making a film himself - a film about the one he loved above all else - Jesus.
- Publisher

The themes of the second book in this series are Missionary tales and remarkable conversions. Other themes covered in the series are Living for God and the value of scripture Missionary Tales and Remarkable Conversions; Honouring God and Dramatic Deliverances; Faithful Witnesses and Childhood Faith.Joel Beeke and Diana Kleyn have taken a selection of real life incidents and fictional narratives and developed them into a series of devotional books for children aged 712.Scriptural references throughout the book use the King James Version of the Bible and the questions are also based on this version.The stories themselves include a good mixture of historical adventure childhood experiences remarkable instances of conversion and dramatic edge of your seat rescues from danger.
- Publisher


Meet the Author
Kim Twitchell
Twitchell has a bachelor's degree from Syracuse University's Newhouse School of Public Communication and Arts and Sciences. She has been on staff with Campus Crusade for Christ for 11 years, serving for 9 years with the Josh McDowell Ministry.
Other Titles In The "Trail Blazers" Series View All