Billy Fidget's Family Fortunes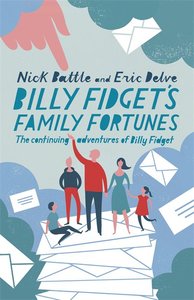 Thanks to a bit of divine intervention, Billy Fidget, reformed wheeler-dealer and ex-womaniser, finally has his life back on track. Then his wife, Helen, gets pregnant. And teenage son Tom gets sent to prison for dealing drugs. This is not how life was meant to work out...Billy Fidget writes letters to God. And, somewhat unexpectedly, God writes back. After the traumatic events and dramatic reconciliation of THE BILLY FIDGET LETTERS life has got back to normal, but then Helen gets pregnant with their fourth child - and Tom gets caught selling drugs to schoolfriends. Billy just doesn't understand it.But, as ever, God has a plan - it's just not necessarily going to be an easy road.This follow-up to THE BILLY FIDGET LETTERS has just the same fearless honesty as the first book, so that through the ups and downs of Billy's spiritual career we can connect with the issues that face him and his family - and maybe learn something about ourselves along the way.

- Publisher
You May Also Be Interested In
About "Billy Fidget's Family Fortunes"
Thanks to a bit of divine intervention, Billy Fidget, reformed wheeler-dealer and ex-womaniser, finally has his life back on track. Then his wife, Helen, gets pregnant. And teenage son Tom gets sent to prison for dealing drugs. This is not how life was meant to work out...Billy Fidget writes letters to God. And, somewhat unexpectedly, God writes back. After the traumatic events and dramatic reconciliation of THE BILLY FIDGET LETTERS life has got back to normal, but then Helen gets pregnant with their fourth child - and Tom gets caught selling drugs to schoolfriends. Billy just doesn't understand it.But, as ever, God has a plan - it's just not necessarily going to be an easy road.This follow-up to THE BILLY FIDGET LETTERS has just the same fearless honesty as the first book, so that through the ups and downs of Billy's spiritual career we can connect with the issues that face him and his family - and maybe learn something about ourselves along the way.
- Publisher


Meet the Authors
Nick Battle
Nick Battle worked in the music industry for thirty-one years. He is the founder and director of the Gravel Road Trust, a charity which supports families who have suffered loss, and is the author of The Daily Male and Big Boys Don't Cry.
Eric Delve
Eric Delve is vicar of St Luke's Maidstone, Kent and runs the Detling Festival. He travels extensively, speaking in churches and at conferences, and at Echoes in Eternity events around the country. Nick Battle was born in 1957 in Torquay. He worked for thirty years in the music business with celebrities such as Simon Cowell, The Spice Girls, Gary Barlow and Michael Ball.