Blessing in Disguise (#06 in Red River North Series)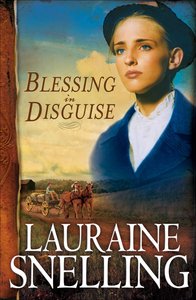 She Had Told Him She Was Headed for Blessing. Why Would He Not Take Her There?



The Bjorklund family has received word that Augusta Bjorklund is on her way from Norway to join them in North Dakota. When the train arrives in the town of Blessing with no Augusta aboard, the worried family hopes she will be on the train in the morning. But only her trunk arrives, so Bridget Bjorklund insists that Hjelmer, Augusta's brother, go find her.



Augusta, after discovering her intended bridegroom had married someone else, decided to leave her broken heart in Norway and start a new life in America helping her mother run her boardinghouse. But knowing no English, Augusta misunderstands a ticket agent's directions in St. Paul, Minnesota, and in the harried confusion, she boards the wrong train. When she arrives at the end of the line, she is met by a handsome young rancher, Kane Moyer, waiting for his Norwegian mail-order bride....

- Publisher
You May Also Be Interested In
About "Blessing in Disguise (#06 in Red River North Series)"
She Had Told Him She Was Headed for Blessing. Why Would He Not Take Her There?



The Bjorklund family has received word that Augusta Bjorklund is on her way from Norway to join them in North Dakota. When the train arrives in the town of Blessing with no Augusta aboard, the worried family hopes she will be on the train in the morning. But only her trunk arrives, so Bridget Bjorklund insists that Hjelmer, Augusta's brother, go find her.



Augusta, after discovering her intended bridegroom had married someone else, decided to leave her broken heart in Norway and start a new life in America helping her mother run her boardinghouse. But knowing no English, Augusta misunderstands a ticket agent's directions in St. Paul, Minnesota, and in the harried confusion, she boards the wrong train. When she arrives at the end of the line, she is met by a handsome young rancher, Kane Moyer, waiting for his Norwegian mail-order bride....
- Publisher


Meet the Author
Lauraine Snelling
Lauraine Snelling is an award-winning author of over 50 books including The Healing Quilt, The Way of Women, and Saturday Morning. The recipient of the Silver Angel Award and a Romance Writers of America Golden Heart, she also writes for a wide range of magazines and teaches at writers' conferences across the country. She and her husband make their home in Tehachapi, California.
-Publisher.


Other Titles In The "Red River North" Series View All