Blessing Your Husband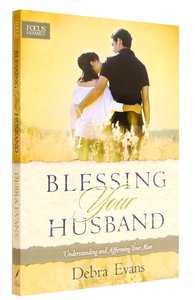 In $lt;i>Blessing Your Husband,$lt;/i> Debra Evans brings wise scriptural insights and true stories of the amazing transformations that can happen when a wife chooses to make blessing her husband a priority. By understanding her husband's unique characteristics, how he thinks, and what matters most to him, a wife can learn how to affirm her husband and develop a more satisfying marriage.

- Publisher
You May Also Be Interested In
About "Blessing Your Husband"
In $lt;i>Blessing Your Husband,$lt;/i> Debra Evans brings wise scriptural insights and true stories of the amazing transformations that can happen when a wife chooses to make blessing her husband a priority. By understanding her husband's unique characteristics, how he thinks, and what matters most to him, a wife can learn how to affirm her husband and develop a more satisfying marriage.
- Publisher


Meet the Author
Debra Evans
Debra Evans is a freelance writer, editor, and writing coach who has worked with renowned authors and teachers, including Debbie Ford, Nicole Daedone, and Barnet Bain. As former national Director of Conference Programming for Whole Life Expos, Debra has worked with New York Times best-selling authors, including Wayne Dyer, Deepak Chopra, and Marianne Williamson.