Blessings For the Morning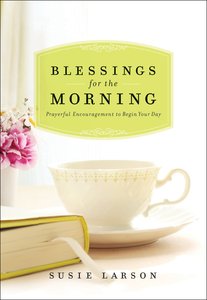 A Blessing a Day from Popular Author and Radio Host

This beautiful devotional gift book is for readers who want to start their day with a reminder of God's love and purpose for them. So often we wake up worried about our to-do lists and responsibilities and need a reminder of how God feels about us and who we are in him. Several years ago Susie began posting daily blessings on Facebook, and since then thousands have responded and forwarded the blessings along to others.

The blessings take only moments to read, but are packed with biblical promise and perspective. Along with a blessing, each day's spread also includes a related Scripture to point readers back to God's timeless truth.

- Publisher
You May Also Be Interested In
About "Blessings For the Morning"
A Blessing a Day from Popular Author and Radio Host

This beautiful devotional gift book is for readers who want to start their day with a reminder of God's love and purpose for them. So often we wake up worried about our to-do lists and responsibilities and need a reminder of how God feels about us and who we are in him. Several years ago Susie began posting daily blessings on Facebook, and since then thousands have responded and forwarded the blessings along to others.

The blessings take only moments to read, but are packed with biblical promise and perspective. Along with a blessing, each day's spread also includes a related Scripture to point readers back to God's timeless truth.
- Publisher


Meet the Author
Susie Larson
With enthusiasm, humor, and conviction, author/speaker SUSIE LARSON has spoken to thousands of women locally, nationally, and internationally. She is a member of the Advanced Writers and Speakers Association, Women in Christian Media, and serves on the board of directors for the Christian Authors Network. Susie also serves a regular guest host for Along the Way, a two-hour talk radio show. In addition to authoring several books and many articles, Susie works as a freelance writer for Focus on the Family, and has been featured as a guest on radio and TV programs across the country, including Moody Midday Connection, Family Life Today, Chris Fabry Live!, The Harvest Show, and the LIFE Today Show with James and Betty Robison. While in Washington D.C., Susie and her husband Kevin, along with Troy and Sara Groves, represented International Justice Mission's concerns in meetings with Congress as part of their efforts to abolish and prevent human trafficking and slavery. The four of them serve as co-chairs for the IJM benefit banquet in Minnesota. Susie comes with a passion to share the love of a Savior who will never let us go. IJM, among other things, rescues young girls from the horrific life of human trafficking (visit www.ijm.org ).