Body and Soul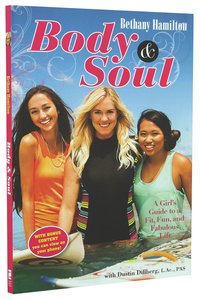 Get on Board with Fitness and Faith! As a professional surfer, Bethany Hamilton knows it's important to keep her body strong and healthy. But as a Christian, she knows that taking care of her spiritual health is crucial. While sharing her expertise as a world-class athlete, Bethany will help you develop a healthy lifestyle and gain confidence --- all in a fun style that's easy to understand and apply. You'll discover new workouts specially developed by Bethany's personal trainer, find delicious recipes and information on healthy eating, and get advice on deepening your spiritual life with God.

Body and Soul includes ways for you to: make fitness a part of your everyday life; build confidence and overcome challenges, big and small; understand and love your changing body; think positively and find balance; bring your body to full, overall health.

Even if you've never stepped foot on a surfboard, this book will help you become the healthiest and happiest 'you' you can be!

- Publisher
You May Also Be Interested In
About "Body and Soul"
Get on Board with Fitness and Faith! As a professional surfer, Bethany Hamilton knows it's important to keep her body strong and healthy. But as a Christian, she knows that taking care of her spiritual health is crucial. While sharing her expertise as a world-class athlete, Bethany will help you develop a healthy lifestyle and gain confidence --- all in a fun style that's easy to understand and apply. You'll discover new workouts specially developed by Bethany's personal trainer, find delicious recipes and information on healthy eating, and get advice on deepening your spiritual life with God.

Body and Soul includes ways for you to: make fitness a part of your everyday life; build confidence and overcome challenges, big and small; understand and love your changing body; think positively and find balance; bring your body to full, overall health.

Even if you've never stepped foot on a surfboard, this book will help you become the healthiest and happiest 'you' you can be!
- Publisher


Meet the Authors
Bethany Hamilton
Since losing her arm, Bethany has chosen to use her experience to become an inspiration and help others to overcome adversity, no matter how great. "People I don't even know come up to me. I guess they see me as a symbol of courage and inspiration. One thing hasn't changed - and that's how I feel when I'm riding a wave."
Media