Boundaries in Dating (Unabridged, 7 Cds)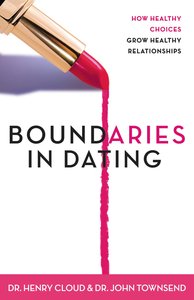 HOW HEALTHY CHOICES GROW HEALTHY RELATIONSHIPS
:Rules for Romance That Can Help You Find the Love of Your Life Between singleness and marriage lies the journey of dating. Want to make your road as smooth as possible? Set and maintain healthy boundaries ? boundaries that will help you grow in freedom, honesty, and self-control. If many of your dating experiences have been difficult, Boundaries in Dating could revolutionize the way you handle relationships. And even if you're doing well, the insights you'll gain from this much-needed audiobook can help you fine-tune or even completely readjust important areas of your dating life. Written by the authors of the bestselling book Boundaries, Boundaries in Dating is your road map to the kind of enjoyable, rewarding dating that can take you from weekends alone to a lifetime with the soul mate you've longed for. ?Boundaries in Dating is the most helpful dating resource we have read in years. It is sure to become a classic. If you are looking for practical tools for finding the love of your life, you can?t afford to miss this outstanding book.? ? Les and Leslie Parrott, Authors of Relationships and Saving Your Marriage Before It Starts ?Boundaries in Dating will help you avoid the pitfalls of dating poorly and learn the secrets of dating well. Dating with good boundaries is a surefire way to find that relationship that lasts for the rest of your life.? ? Gary Smalley, Author of Making Love Last Forever

- Publisher
You May Also Be Interested In
About "Boundaries in Dating (Unabridged, 7 Cds)"
:Rules for Romance That Can Help You Find the Love of Your Life Between singleness and marriage lies the journey of dating. Want to make your road as smooth as possible? Set and maintain healthy boundaries ? boundaries that will help you grow in freedom, honesty, and self-control. If many of your dating experiences have been difficult, Boundaries in Dating could revolutionize the way you handle relationships. And even if you're doing well, the insights you'll gain from this much-needed audiobook can help you fine-tune or even completely readjust important areas of your dating life. Written by the authors of the bestselling book Boundaries, Boundaries in Dating is your road map to the kind of enjoyable, rewarding dating that can take you from weekends alone to a lifetime with the soul mate you've longed for. ?Boundaries in Dating is the most helpful dating resource we have read in years. It is sure to become a classic. If you are looking for practical tools for finding the love of your life, you can?t afford to miss this outstanding book.? ? Les and Leslie Parrott, Authors of Relationships and Saving Your Marriage Before It Starts ?Boundaries in Dating will help you avoid the pitfalls of dating poorly and learn the secrets of dating well. Dating with good boundaries is a surefire way to find that relationship that lasts for the rest of your life.? ? Gary Smalley, Author of Making Love Last Forever
- Publisher


Meet the Authors
Henry Cloud
Dr. Cloud is a clinical psychologist with a unique ability to connect with his audiences. Drawing upon his broad range of experiences in private practice, leadership consulting, and media, he simplifies life's issues and gives easy-to-understand, practical advice. It is Dr. Cloud's humour, compassion, and 'in the moment' confrontation that make his approach to psychology and spirituality such a success.

He has written or co-written 19 books, including the best-selling Boundaries. His most recent books are Integrity, Necessary Endings and The Law of Happiness. He has earned three Gold Medallion awards and was awarded the distinguished Retailers Choice award for God Will Make A Way.

Dr. Cloud has appeared on numerous radio and television broadcasts and has been featured in many publications. Millions of listeners have benefited from his wit and wisdom for over a decade.

As president of Cloud-Townsend Resources, he has produced and conducted hundreds of public seminars around the country. He speaks on relationships - marriage, parenting, dating, personal growth, and spirituality. His seminars are often broadcast live to over two thousand venues at a time.

In his consulting practice, he works with leaders of organisations and corporations, from family-held firms to Fortune 25 companies and non-profit organisations. With his extensive executive coaching background and experience as an organisational and leadership consultant, he speaks regularly at corporate and leadership events held across the United States and internationally.

Dr. Cloud co-founded a health-care company that operated treatment centres in 35 cities in the Western United States; he served as Clinical Co-Director for ten years. In that context of hands-on clinical experience, he researched and developed many of the treatment methods and principles he communicates to audiences today. Since then, he has devoted his time to spreading principles of hope and life change through speaking, writing, and the media. His books have sold over four million copies.

He is a graduate of Southern Methodist University, having earned a BS in psychology with honours. He completed his PhD in clinical psychology at Biola University and his clinical internship at Los Angeles County Department of Mental Health. His philanthropic interests lie in the area of homelessness and the inner city, as well as Third World missions and development. He serves on the board of the Los Angeles Mission, a rescue mission on Skid Row in downtown Los Angeles.

Dr. Cloud is an avid golfer and enjoys boating, deep sea fishing and scuba diving. He lives in Los Angeles.
John Townsend
Dr. John Townsend (Psy.D., Rosemead Graduate School of Psychology) is a psychologist, popular speaker, radio host and the bestselling author and co-author of numerous books, including the Gold Medallion award-winning Boundaries and God Will Make a Way. He is co-founder of the Cloud-Townsend Clinic in Southern California.
Customer Reviews For "Boundaries in Dating (Unabridged, 7 Cds)"
Write Your Own Review
Essential Reading
By Victoria,

Aug 26 2014
Excellent book for those new to dating. Provides insight into making and growing healthy relationships. 
910
---
Essential Reading
By Victoria,

Aug 26 2014
Excellent book for those new to dating. Provides insight into making and growing healthy relationships. 

910
---
Much needed!
By Kristina,

Jul 10 2014
This practical book written by Dr Cloud and Dr Townsend gives great advice for those who are interested in the dating "game". The two use great examples, both in the form of testimonies and the bible, to explain how Christians of all ages should date. Definitely a must read for all Christians dating!
---
Fantastic book for dating guidelines
By Maddy,

Apr 11 2013
I'm really excited about this book as christian psychologists explain the why it is so important to have boundaries in dating. It helped me understanding why some of my past dating experiences have been hurtful and how I could have avoided been hurt if I had healthy boundaries. I would recommend this book to all teenagers and young people who are entering the dating scene.
---
Wow
By LJ,

Oct 27 2012
I was given this book to read when a young man had caught my eye.  I was not raised as a Christian and NEVER taught the whol concept about Gods plan for marraige and relationships.  This book changed my whole perception I could not put it down and read it TWICE then rang the person who gave it to me and banked her over and over and kept saying "and did you know gods plan says his..." "Or that"   She was laughing as she knew already

This book changed my perspectives and I reccomend it for anyone nearing dating age, those entering the dating scene or those in it now... Stop and read this book... Do dating right the first time!!!  Be blessed!!
{{review.title}}
By {{review.author.name}},

{{review.reviewCreatedDate | date:'MMM dd yyyy'}}

{{reviewdescription}}
{{review.text}}
---