Boundaries: When to Say Yes, How to Say No to Take Control of Your Life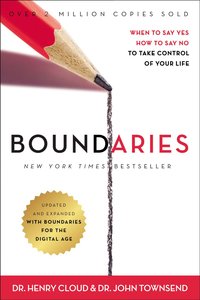 You May Also Be Interested In
About "Boundaries: When to Say Yes, How to Say No to Take Control of Your Life"
Boundaries Product Sample
- Koorong

:
This New York Times bestselling and award-winning book helps readers set healthy boundaries in order to be the loving people God created, and now offers a whole new chapter.
Are you in control of your life?
Christians often focus so much on being loving and giving that they forget their own limits and limitations. Have you ever found yourself wondering: Can I set limits and still be a loving person? How do I answer someone who wants my time, love, energy, or money? Why do I feel guilty when I consider setting boundaries?
In this Gold Medallion Award-winning book and New York Times bestseller, Drs. Henry Cloud and John Townsend give you biblically based answers to these and other tough questions, and show you how to set healthy boundaries with your parents, spouses, children, friends, coworkers, and even with yourself. This updated and expanded edition specifically addresses boundaries in the digital age, online dating, single parenting, and the workplace.
Boundaries are personal property lines that define who you are and who you are not, and influence all areas of your life - physically, mentally, emotionally, spiritually.
Unpacking ten laws of boundaries, Drs. Cloud and Townsend show you how to bring new health to your relationships. You'll discover firsthand how sound boundaries give you the freedom to walk as the loving, giving, fulfilled individual God created you to be.
- Publisher
Meet the Authors
Henry Cloud
Dr. Cloud is a clinical psychologist with a unique ability to connect with his audiences. Drawing upon his broad range of experiences in private practice, leadership consulting, and media, he simplifies life's issues and gives easy-to-understand, practical advice. It is Dr. Cloud's humour, compassion, and 'in the moment' confrontation that make his approach to psychology and spirituality such a success.

He has written or co-written 19 books, including the best-selling Boundaries. His most recent books are Integrity, Necessary Endings and The Law of Happiness. He has earned three Gold Medallion awards and was awarded the distinguished Retailers Choice award for God Will Make A Way.

Dr. Cloud has appeared on numerous radio and television broadcasts and has been featured in many publications. Millions of listeners have benefited from his wit and wisdom for over a decade.

As president of Cloud-Townsend Resources, he has produced and conducted hundreds of public seminars around the country. He speaks on relationships - marriage, parenting, dating, personal growth, and spirituality. His seminars are often broadcast live to over two thousand venues at a time.

In his consulting practice, he works with leaders of organisations and corporations, from family-held firms to Fortune 25 companies and non-profit organisations. With his extensive executive coaching background and experience as an organisational and leadership consultant, he speaks regularly at corporate and leadership events held across the United States and internationally.

Dr. Cloud co-founded a health-care company that operated treatment centres in 35 cities in the Western United States; he served as Clinical Co-Director for ten years. In that context of hands-on clinical experience, he researched and developed many of the treatment methods and principles he communicates to audiences today. Since then, he has devoted his time to spreading principles of hope and life change through speaking, writing, and the media. His books have sold over four million copies.

He is a graduate of Southern Methodist University, having earned a BS in psychology with honours. He completed his PhD in clinical psychology at Biola University and his clinical internship at Los Angeles County Department of Mental Health. His philanthropic interests lie in the area of homelessness and the inner city, as well as Third World missions and development. He serves on the board of the Los Angeles Mission, a rescue mission on Skid Row in downtown Los Angeles.

Dr. Cloud is an avid golfer and enjoys boating, deep sea fishing and scuba diving. He lives in Los Angeles.
John Townsend
Dr. John Townsend (Psy.D., Rosemead Graduate School of Psychology) is a psychologist, popular speaker, radio host and the bestselling author and co-author of numerous books, including the Gold Medallion award-winning Boundaries and God Will Make a Way. He is co-founder of the Cloud-Townsend Clinic in Southern California.
Customer Reviews For "Boundaries: When to Say Yes, How to Say No to Take Control of Your Life"
Write Your Own Review
Valuable resource
By Lucy,

Nov 12 2018
This is the kind of book you can reread many times and still come away with new insights time and again. The biblical, practical ways to develop effective boundaries are well set out, explained and substantiated. Cloud and Townsend are candid, personable writers who have the ability to reach their reader in a way which encourages and supports. Highly recommended.
---
A great tool to have!
By Bec C ,

May 07 2018
I found this book a very practical book that delves into the how, what and why of boundaries and why we need them for life. This book is filled with so much wisdom and helps explain how to apply that wisdom to your life. It inspires change, and helps equip you to see that change through. I would definitely recommend it! 

---
Sound and Practical
By Joycey,

Mar 28 2018
I read this book years ago for my own personal growth. I never thought it would come around and be one of the most practical books for raising my kids! I know there is a children-specific edition published which is also fantastic in it's focus. The original tagline was "learning how to say no" which is what a lot of what Boundaries is about - setting limits and controls and being comfortable and confident. I am teaching my boys the same thing, self-discipline and thoughtful consideration rather than me having to scold them all the time haha!
---
I feel like I found a hidden gem: It's a breather everyone needs
By AceoftheHouse,

Dec 18 2017
This 302 pages book with the small but still comfortable to read fonts is a breather we all need to make our lives easier. The good thing about this book is that Drs. Cloud and Townsend's approach is they first identify the "problems" and in some cases uses people's situations in their stories and then pinpoint what's wrong in the picture and the great thing about this book is it makes it okay to say "No" even to our relatives whom we love so much. As Christians we often love to a fault to the point that we get abused or pushed to the wall but this book shows us that there are boundaries and that it's okay to have it. It makes you feel good to feel bad or down or tired of everything sometimes as this book helps us to understand that we're humans and reiterates it....for our sake and our loved ones as well. It's a great find. I highly recommend it!
---
This book will teach you how to say No.
By Aileen,

Dec 02 2017
As a Christian, I often hesitate to say no to my friends and family. I thought because I love them, I would say yes for everything they ask. This book changed my perspective and helped me to live a better life. Not every Yes is good and not every No is bad. This book has been updated to be more relevant with today's life. Read it.. It will change your life. 
{{review.title}}
By {{review.author.name}},

{{review.reviewCreatedDate | date:'MMM dd yyyy'}}

{{reviewdescription}}
{{review.text}}
---