Boundaries With Kids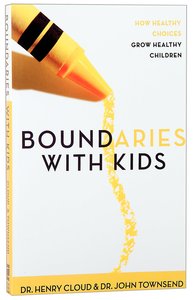 Doctors Cloud and Townsend apply the principles of their bestselling BOUNDARIES to generational relationships within the family. Here is the practical, effective guidance parents need to teach healthy personal boundaries to their children.
You May Also Be Interested In
About "Boundaries With Kids"
Doctors Cloud and Townsend apply the principles of their bestselling BOUNDARIES to generational relationships within the family. Here is the practical, effective guidance parents need to teach healthy personal boundaries to their children.
- Koorong

Keys for establishing healthy boundaries--the bedrock of good relationships, maturity, safety, and growth for children and adults.To help their children grow into healthy adults, parents need to teach them how to take responsibility for their behavior, their values, and their lives. The authors of the Gold Medallion Award-winning book Boundaries bring their biblically based principles to bear on the challenging task of child rearing, showing parents: * how to bring control to an out-of-control family life* how to set limits and still be loving parents* how to define legitimate boundaries for the family* how to instill in children a godly character
- Publisher

What the award-winning Boundaries has done for adult relationships, Boundaries with Kids will do for you and your childrenHere is the help you need for raising your kids to take responsibility for their actions, attitudes, and emotions. Drs. Henry Cloud and John Townsend take you through the ins and outs of instilling the kind of character in your children that will help them lead balanced, productive, and fulfilling adult lives.Learn how to* set limits and still be a loving parent* bring control to an out-of-control family life* apply the ten laws of boundaries to parenting* define appropriate boundaries and consequences for your kids... and much more.'Boundaries with Kids helps us give our kids the skills they need to live realistic and full lives in meaningful relationships. Not perfect---but healthy!'---Elisa Morgan, president of MOPS International, Inc.
- Publisher


Meet the Authors
Henry Cloud
Dr. Cloud is a clinical psychologist with a unique ability to connect with his audiences. Drawing upon his broad range of experiences in private practice, leadership consulting, and media, he simplifies life's issues and gives easy-to-understand, practical advice. It is Dr. Cloud's humour, compassion, and 'in the moment' confrontation that make his approach to psychology and spirituality such a success.

He has written or co-written 19 books, including the best-selling Boundaries. His most recent books are Integrity, Necessary Endings and The Law of Happiness. He has earned three Gold Medallion awards and was awarded the distinguished Retailers Choice award for God Will Make A Way.

Dr. Cloud has appeared on numerous radio and television broadcasts and has been featured in many publications. Millions of listeners have benefited from his wit and wisdom for over a decade.

As president of Cloud-Townsend Resources, he has produced and conducted hundreds of public seminars around the country. He speaks on relationships - marriage, parenting, dating, personal growth, and spirituality. His seminars are often broadcast live to over two thousand venues at a time.

In his consulting practice, he works with leaders of organisations and corporations, from family-held firms to Fortune 25 companies and non-profit organisations. With his extensive executive coaching background and experience as an organisational and leadership consultant, he speaks regularly at corporate and leadership events held across the United States and internationally.

Dr. Cloud co-founded a health-care company that operated treatment centres in 35 cities in the Western United States; he served as Clinical Co-Director for ten years. In that context of hands-on clinical experience, he researched and developed many of the treatment methods and principles he communicates to audiences today. Since then, he has devoted his time to spreading principles of hope and life change through speaking, writing, and the media. His books have sold over four million copies.

He is a graduate of Southern Methodist University, having earned a BS in psychology with honours. He completed his PhD in clinical psychology at Biola University and his clinical internship at Los Angeles County Department of Mental Health. His philanthropic interests lie in the area of homelessness and the inner city, as well as Third World missions and development. He serves on the board of the Los Angeles Mission, a rescue mission on Skid Row in downtown Los Angeles.

Dr. Cloud is an avid golfer and enjoys boating, deep sea fishing and scuba diving. He lives in Los Angeles.
John Townsend
Dr. John Townsend (Psy.D., Rosemead Graduate School of Psychology) is a psychologist, popular speaker, radio host and the bestselling author and co-author of numerous books, including the Gold Medallion award-winning Boundaries and God Will Make a Way. He is co-founder of the Cloud-Townsend Clinic in Southern California.
Table Of Contents
Contents

Introduction..... 7

Why Boundaries With Kids

Part 1: Why Kids Need Boundaries

1. The Future Is Now..... 13

2. What Does Character Look Like?..... 23

3. Kids Need Parents With Boundaries..... 38

Part 2: Ten Boundary Principles

Kids Need To Know

4. What Will Happen If I Do This?..... 57

The Law Of Sowing And Reaping

5. Pulling My Own Wagon..... 73

The Law Of Responsibility

6. I Can't Do It All, But I'm Not Helpless, Either..... 87

The Law Of Power

7. I'm Not The Only One Who Matters..... 103

The Law Of Respect

8. Life Beyond 'because I'm The Mommy'..... 120

The Law Of Motivation

9. Pain Can Be A Gift..... 134

The Law Of Evaluation

10. Tantrums Needn't Be Forever..... 147

The Law Of Proactivity

11. I Am Happier When I Am Thankful..... 163

The Law Of Envy

12. Jump-starting My Engine..... 177

The Law Of Activity

13. Honesty Is The Best Policy..... 192

The Law Of Exposure

Part 3: Implementing Boundaries With Kids

14. Roll Up Your Sleeves..... 207

The Six Steps To Implementing Boundaries With Your Kid
Excerpt
Excerpt from: Boundaries With Kids
Boundaries with Kids We want to hear from you. Please send your comments about this book to us in care of zreview@zondervan.com. Thank you. The Future Is Now It was a normal day, but one that would forever change my friend's parenting. We had finished dinner, and I (Dr. Cloud) was visiting with my friend, Allison, and her husband, Bruce, when she left the dinner table to do some chores. Bruce and I continued to talk until a phone call took him away as well, so I went to see if I could lend Allison a hand. I could hear her in their fourteen-year-old son Cameron's room. I walked in to a scene that jolted me. She was cheerfully putting away clothes and sports equipment and making the bed. She struck up a conversation as if things were normal: 'I can't wait for you to see the pictures from our trip. It was so much---' 'What are you doing?' I asked. 'I'm cleaning up Cameron's room,' she said. 'What does it look like I'm doing?' 'You are what?' 'I told you. I'm cleaning up his room. Why are you looking at me like that?' All I could do was to share with her the vision in my head. 'I just feel sorry for Cameron's future wife.' Allison straightened up, froze for a moment, and then hurried from the room. I walked into the hall to see her standing there motionless. Not knowing what to say, I said nothing. After a few moments, she looked at me and said, 'I've never thought about it that way.' Nor have most of us. We parent in the present without thinking about the future. We usually deal with the problems at hand. Making it through an afternoon without wanting to send our children to an eight-year camp in Alaska seems like a huge accomplishment! But one goal of parenting is to keep an eye on the future. We are raising our children to be responsible adults. Parents interact with their children in a way that comes naturally to them. For example, Allison was by nature a 'helper,' and she gladly helped her son. Others have different parenting styles. Some, who are more laid back and uninvolved, leave their son's room alone. Those who are stricter inflict heavy punishment for a less than regulation-made bed. Certainly, child rearing requires many different interventions. There are times for helping, for not getting involved, or for being strict. But the real issue is this: Is what you are doing being done on purpose? Or are you doing it from reasons that you do not think about, such as your own personality, childhood, need of the moment, or fears? Remember, parenting has to do with more than the present. You are preparing your child for the future. A person's character is one's destiny. A person's character largely determines how he will function in life. Whether he does well in love and in work depends on the abilities he possesses inside. In a world that has begun to explain away people's behavior with a variety of excuses, people are left wondering why their lives do not work. Most of our problems result from our own character weakness. Where we possess inner strength, we succeed, often in spite of tough circumstances. But where we do not possess inner strength, we either get stuck or fail. If a relationship requires understanding and forgiveness and we do not have that character ability, the relationship will not make it. If a difficult time period in work requires patience and delay of gratification and we do not possess those traits, we will fail. Character is almost everything. The word character means different things to different people. Some people use character to mean moral functioning or integrity. We use the word to describe a person's entire makeup, who he is. Character refers to a person's ability and inability, his moral makeup, his functioning in relationships, and how he does tasks. What does he do in certain situations, and how does he do it? When he needs to perform, how will he meet those demands? Can he love? Can he be responsible? Can he have empathy for others? Can he develop his talents? Can he solve problems? Can he deal with failure? How does he reflect the image of God? These are a few of the issues that define character. If a person's character makeup determines his future, then child rearing is primarily about helping children to develop character that will take them through life safely, securely, productively, and joyfully. Parents---and those who work with children--- would do well to keep this in mind. A major goal of raising children is to help them develop the character that will make their future go well. It wasn't until Allison saw this future reality that her parenting changed. She loved helping Cameron. But in many ways her helping was not 'helping' Cameron. He had developed a pattern in which he felt entitled to everyone else's help, and this feeling of entitlement affected his relationships at school and at church. Allison had always been glad to help Cameron through the messes he was creating. Another undone project was another opportunity to love him. Yet Allison was not only a mother, but also a grown woman and a wife. When she looked into the future and saw a time when Cameron would be leaving responsibilities for others to do, she became concerned. What a mother doesn't mind doing, others deplore. She glimpsed the reality of character destiny. And she changed how she interacted with Cameron to help him develop a sense of responsibility, to help him think about how his behavior affected others and whether or not others would want to be a part of his future. It is in this sense that we say the future is now. When you are a parent, you help create a child's future. The patterns children establish early in life (their character) they will live out later. And character is always formed in relationship. We can't overestimate your role in developing this character. As Proverbs says, 'Train a child in the way he should go, and when he is old he will not turn from it' (Proverbs 22:6). Preventive Medicine In 1992 we wrote Boundaries, a book about taking control of one's life. In Boundaries we talked about how to repair the brokenness in character caused by a lack of boundaries. Since that time, through workshops and on radio and television, we have spoken to more than a million people about creating boundaries in their lives. Thousands have told us that creating boundaries has enabled them to love and to live better, some for the first time. Nothing is more exciting than to see people grow and change. But from our own experience and that of our audiences and readers, one thing became obvious to us. Adults with boundary problems had not developed those problems as grown-ups. They had learned patterns early in life and then continued those out-of-control patterns in their adult lives, where the stakes were higher. They had learned the following boundary problems as youngsters: * Inability to say no to hurtful people or set limits on hurtful behavior from others * Inability to say no to their own destructive impulses * Inability to hear no from others and respect their limits * Inability to delay gratification and accomplish goals and tasks * Tendency to be attracted to irresponsible or hurtful people and then try to 'fix' them * Taking responsibility for other people's lives * Ability to be easily manipulated or controlled
Customer Reviews For "Boundaries With Kids"
Write Your Own Review
Give your kids the best start in life
By Karah,

Nov 05 2015
Regretfully, many of us were not taught boundaries growing up, and it's because our parents didn't have them either. Give your children the best start in life by teaching them boundaries, so they will grow up healthy and independent. This book will show you how to very practically. Thumbs up for Townsend.
---
Essential for parents
By LJ ,

Apr 03 2013
Cloud and Townsend have written a book jam packed full of ideas and ways you can place reasonable boundaries on your children.  The result? Happy parents and happy children.
{{review.title}}
By {{review.author.name}},

{{review.reviewCreatedDate | date:'MMM dd yyyy'}}

{{reviewdescription}}
{{review.text}}
---