Breaking Generational Curses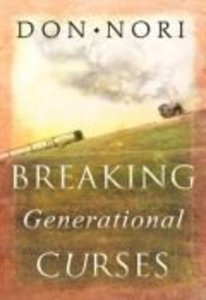 Join the army of Christians who are taking their rightful place to shine God's goodness in a dark, decaying world. Light Belongs In the Darkness reveals the power of bringing God's glory into missions, media and the marketplace. The next great move of the Holy Spirit will not be found in the sanctuary, but in the secular arena.

- Publisher The sins of our fathers do not have to torment us. Our sins do not have to chase after our children. Each generation's sin should be locked in that generation. This book tells you why and also tells you how to be certain they stay in that generation. Breaking Generational Curses takes the mystery out of breaking the bondage of generational sin.

- Publisher
You May Also Be Interested In
About "Breaking Generational Curses"
Join the army of Christians who are taking their rightful place to shine God's goodness in a dark, decaying world. Light Belongs In the Darkness reveals the power of bringing God's glory into missions, media and the marketplace. The next great move of the Holy Spirit will not be found in the sanctuary, but in the secular arena.
- Publisher

The sins of our fathers do not have to torment us. Our sins do not have to chase after our children. Each generation's sin should be locked in that generation. This book tells you why and also tells you how to be certain they stay in that generation. Breaking Generational Curses takes the mystery out of breaking the bondage of generational sin.
- Publisher


Meet the Author
Don Nori
Don Nori Sr, along with his wife Cathy, founded Destiny Image Publishers January 1, 1983. During the past 27 years, they have rejoiced, cried and grown together as God fulfilled His calling in their lives.They are a genuine testimony of how God can take truly raw material and use it for His glory. Without any experience in publishing and absolutely money, the Lord has shown them what faith, holy risk-taking and abandonment to Him can accomplish."I will cause you to publish the prophets" was the phrase the resounded through their spirits as God built within them the zeal for His prophetic word. Nestled in the foothills of the Appalatian mountains in south-central Pennsylvania, Don and Cathy build Destiny Image into a world-wide prophetic publishing voice. Four of their five sons work at DI. Don Jr is the President and chief marketing officer. Jonathan is the VP for Operations and IT. Both work at the home office. Nathan Martin is the VP for financial operations along with 40 other employees and countless writers, editors, artists, sales people and authors.