Breaking the Cycle of Divorce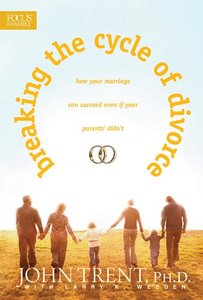 Making your marriage healthy?and making it last?has never been harder. In an age when the pressures on marriage are heavy and divorce is more accepted and easier to obtain, marriages seem to fail as often as they succeed. When you come from a home of divorce, making your own marriage work is even tougher than the norm. Fortunately, in Breaking the Cycle of Divorce, author John Trent, an adult child of divorce himself, gives you the encouragement, insight, and tools you need to beat the odds. Learn how you can, in fact, succeed where your parents failed.

- Publisher
You May Also Be Interested In
About "Breaking the Cycle of Divorce"
Making your marriage healthy?and making it last?has never been harder. In an age when the pressures on marriage are heavy and divorce is more accepted and easier to obtain, marriages seem to fail as often as they succeed. When you come from a home of divorce, making your own marriage work is even tougher than the norm. Fortunately, in Breaking the Cycle of Divorce, author John Trent, an adult child of divorce himself, gives you the encouragement, insight, and tools you need to beat the odds. Learn how you can, in fact, succeed where your parents failed.
- Publisher


Meet the Author
John Trent
John Trent (PhD., North Central Texas Federation of Colleges and Universities) is president of StrongFamilies.com and The Center for StrongFamilies, a training center in Scottsdale, Arizona, where lay leaders, counselors, and pastors are trained to become StrongFamily Coaches in their churches and corporate settings.
Dr Trent is a much sought-after speaker on the topics of building strong relationships and strong workplace teams. He has authored and coauthored more then a dozen award-winning and best-selling books for adults and children. His books include The Blessing, The 2-Degree Difference, Chasing Skinny Rabbits and The Treasure Tree. John has been a featured guest on numerous radio and television programs across the country. He and his wife, Cindy, have been married for more then twenty-eight years and have two daughters.