Bridges to Grace (Leadership Network Innovation Series)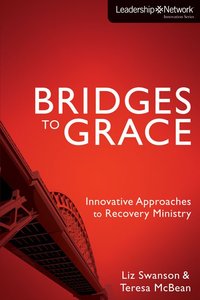 Discover the power of recovery ministry for your church. Churchgoers who experience painful family issues, addictions, abuse, loss, mental illnesses, and other secret sorrows begin to believe they live beyond the grip of God's redemptive hand. Pastors often feel ill equipped to help with such problems and refer people to resources outside the church. People badly need Christ-centered counsel and encouragement, but few church leaders even know where to start. Bridges to Grace is an inspiring introduction highlighting the stories of churches across the country that are thinking systematically and organizationally about the ministry of recovery. The authors share how this ministry is bringing God's grace to hurting individuals. They relate both success and failure, and best of all, they demonstrate how God uses recovery ministry powerfully for his kingdom purposes.

- Publisher
You May Also Be Interested In
About "Bridges to Grace (Leadership Network Innovation Series)"
Discover the power of recovery ministry for your church. Churchgoers who experience painful family issues, addictions, abuse, loss, mental illnesses, and other secret sorrows begin to believe they live beyond the grip of God's redemptive hand. Pastors often feel ill equipped to help with such problems and refer people to resources outside the church. People badly need Christ-centered counsel and encouragement, but few church leaders even know where to start. Bridges to Grace is an inspiring introduction highlighting the stories of churches across the country that are thinking systematically and organizationally about the ministry of recovery. The authors share how this ministry is bringing God's grace to hurting individuals. They relate both success and failure, and best of all, they demonstrate how God uses recovery ministry powerfully for his kingdom purposes.
- Publisher


Meet the Authors
Liz Swanson
Liz Swanson joined the staff of Leadership Network in 2005, serving as Leadership Community Director for Recovery Ministries. She is a conference speaker for university groups, church groups and women's groups. Liz also has an extensive background in ministry, having worked for Campus Crusade for Christ for over 20 years. She is a skilled communicator, holding an MA in Human Communication and has taught in the Communications Department at Colorado State University. She and her husband, Eric, now live in Colorado.
Other Titles In The "Leadership Network Innovation Series" Series View All