Bringing Heaven to Earth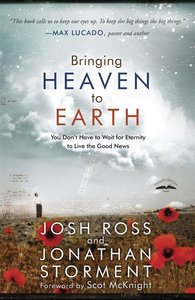 You Can Help Bring Heaven to Earth

God so loved the world, and he still does. He values his creation too much to destroy it. If you know where to look, you can see that the coming of a new heaven and a new earth already has begun.
Life on earth is renewed every time you live out Jesus's prayer that God's ways will be followed on earth. The work of God's Kingdom involves restoring what has been broken. This includes people, unjust systems, relationships, anything that has been separated from God and needs to be healed, reconciled, and set right.
This is how heaven collides with earth-not following fiery destruction but in the power of restoring to life everything that God created. What you believe about God's plan for humanity and for his creation determines how you will invest your life. God calls all of us to this renewing work. You can help bring heaven to earth, starting today.


From the Trade Paperback edition.

- Publisher
You May Also Be Interested In
About "Bringing Heaven to Earth"
You Can Help Bring Heaven to Earth

God so loved the world, and he still does. He values his creation too much to destroy it. If you know where to look, you can see that the coming of a new heaven and a new earth already has begun.
Life on earth is renewed every time you live out Jesus's prayer that God's ways will be followed on earth. The work of God's Kingdom involves restoring what has been broken. This includes people, unjust systems, relationships, anything that has been separated from God and needs to be healed, reconciled, and set right.
This is how heaven collides with earth-not following fiery destruction but in the power of restoring to life everything that God created. What you believe about God's plan for humanity and for his creation determines how you will invest your life. God calls all of us to this renewing work. You can help bring heaven to earth, starting today.


From the Trade Paperback edition.
- Publisher


Meet the Author
Josh Ross
Josh Ross is the Lead Minister for the Sycamore View Church in Memphis, Tennessee. In addition to speaking regularly around the country, he has been published in "New Wineskins", "At Home Tennessee", "The Christian Chronicle", and other publications.