Buddhism (Zondervan Guide To Cults & Religious Movements Series)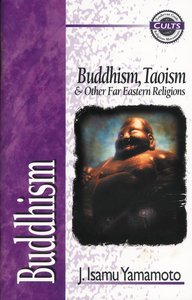 In the second half of the twentieth century, the failure of Enlightenment rationalism and the spiritual bankruptcy of Western materialism have opened the door for Eastern religions, especially the nontheistic religions that promise enlightenment and peace of mind. Any major bookstore today has copies of the I Ching, the Tao Te Ching, and books on Taoism, Zen, and other forms of Buddhism. This volume and the volume on Hinduism in this series together present a comprehensive overview of Eastern religions, their views, and their impact on contemporary North America. This book includes - A concise introduction to Eastern religions - An overview of the movement's theology -- in their own words - A biblical response - Tips for witnessing effectively - A bibliography with sources for further study - A chart comparing the groups' beliefs with biblical Christianity - A glossary
- Publisher
You May Also Be Interested In
About "Buddhism (Zondervan Guide To Cults & Religious Movements Series)"
In the second half of the twentieth century, the failure of Enlightenment rationalism and the spiritual bankruptcy of Western materialism have opened the door for Eastern religions, especially the nontheistic religions that promise enlightenment and peace of mind. Any major bookstore today has copies of the I Ching, the Tao Te Ching, and books on Taoism, Zen, and other forms of Buddhism. This volume and the volume on Hinduism in this series together present a comprehensive overview of Eastern religions, their views, and their impact on contemporary North America. This book includes - A concise introduction to Eastern religions - An overview of the movement's theology -- in their own words - A biblical response - Tips for witnessing effectively - A bibliography with sources for further study - A chart comparing the groups' beliefs with biblical Christianity - A glossary
- Publisher
Meet the Author
J Isamu Yamamoto
J. Isamu Yamamoto is the author of several books. He is currently the inspirational editor for Publications International, Ltd., and a consulting editor for Christian Research Journal.
Other Titles In The "Zondervan Guide To Cults & Religious Movements" Series View All
$15.99




Order now to secure your copy when our stock arrives. 0 Available. Expected to ship in 7 to 8 weeks from Australia.

Formats

$7.99

Nett


Available for immediate download.