Building Blocks in Earth Science: From Genesis & Geology to Earth's History & Destiny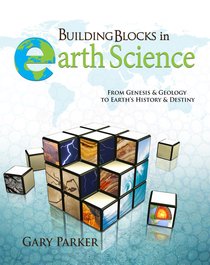 To understand earth science, it requires" teamwork" combining the methods and evidences of both science and history. And if you also use the "history book of the world," the Bible, you can make sense of the Earth's surface - altered, formed, and weathered over time, the landscapes and vistas we enjoy today. Learn about the structure of the Earth and its atmosphere and types of minerals and rocks, the water table, and types of volcanoes. You will also learn about Earth's tornadoes, faults, polarity, magnetism, reeds, folding, hypercanes, deltas, and much more!

- Publisher
You May Also Be Interested In
About "Building Blocks in Earth Science: From Genesis & Geology to Earth's History & Destiny"
To understand earth science, it requires" teamwork" combining the methods and evidences of both science and history. And if you also use the "history book of the world," the Bible, you can make sense of the Earth's surface - altered, formed, and weathered over time, the landscapes and vistas we enjoy today. Learn about the structure of the Earth and its atmosphere and types of minerals and rocks, the water table, and types of volcanoes. You will also learn about Earth's tornadoes, faults, polarity, magnetism, reeds, folding, hypercanes, deltas, and much more!
- Publisher


Meet the Author
Gary Parker
Gary E. Parker is the best-selling author of ten novels and three novellas, including "Secret Tides" and "Fateful Journeys". A Christy Award finalist, Parker has become CBA's source for sweeping sagas of faith and family. A PhD graduate of Baylor University, he serves as the senior pastor of the First Baptist Church of Decatur, Georgia, and lives there with his wife, Melody, and daughters, Andrea and Ashley.