Building Bridges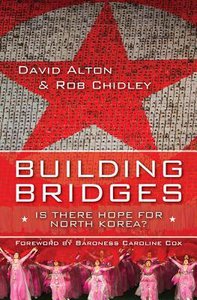 For sixty years North Korea has had neither war nor peace; simply an Armistice signed in 1953 ? this lack of resolution has perpetuated instability, fear, and a risk of further tragedy. Behind the backdrop is the ever present danger of a major conflict. Lord Alton suggests that there is a better way to relate to the pariah state. There are many issues to be addressed; including serious concerns over the grave, systematic and widespread violation of human rights, including reported executions, torture, violations of religious freedom and humanitarian concerns. Lord Alton argues that through patient but firm engagement, this situation is capable of resolution. Distinguishing between an antipathy towards a decaying political ideology and a love of the dignified and courageous Korean people must remain the central concern ?we must encourage the tiny shoots of hope and above all build bridges through constructive, critical engagement.

- Publisher
You May Also Be Interested In
About "Building Bridges"
For sixty years North Korea has had neither war nor peace; simply an Armistice signed in 1953 ? this lack of resolution has perpetuated instability, fear, and a risk of further tragedy. Behind the backdrop is the ever present danger of a major conflict. Lord Alton suggests that there is a better way to relate to the pariah state. There are many issues to be addressed; including serious concerns over the grave, systematic and widespread violation of human rights, including reported executions, torture, violations of religious freedom and humanitarian concerns. Lord Alton argues that through patient but firm engagement, this situation is capable of resolution. Distinguishing between an antipathy towards a decaying political ideology and a love of the dignified and courageous Korean people must remain the central concern ?we must encourage the tiny shoots of hope and above all build bridges through constructive, critical engagement.
- Publisher


Meet the Authors
David Alton
Lord Alton has had a distinguished career as a campaigning MP, both in the Commons and now in the House of Lords. He helped found the All-Party Street Children Group, the Movement for Christian Democracy, Jubilee Campaign and the All Party Parliamentary Committee on North Korea. He has written books on a range of ethical and human rights issues.