Business as Mission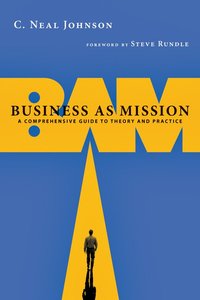 Business as mission (BAM) is a mission strategy whose time has come. As global economics become increasingly interconnected, Christian business people and entrepreneurs have unanticipated opportunities to build kingdom-strategic business ventures. But Christian companies and business leaders do not automatically accomplish missional purposes. BAM requires mastery of both the world of business and the world of missions, merging and contextualizing both into something significantly different than either alone. C. Neal Johnson offers the first comprehensive guide to business as mission for practitioners. He provides conceptual foundations for understanding BAM's unique place in global mission and prerequisites for engaging in it. Then he offers practical resources for how to do BAM, including strategic planning and step-by-step operational implementation. Drawing on a wide variety of BAM models, Johnson works through details of both mission and business realities, with an eye to such issues as management, sustainability and accountability. Business as mission is a movement with enormous potential. This book breaks new ground in how faith and work intersect and are lived out in crosscultural contexts, where job creation and community transformation go hand in hand. Come, participate in what may well be one of the most strategic mission paradigms of the 21st century.

- Publisher
You May Also Be Interested In
About "Business as Mission"
Business as mission (BAM) is a mission strategy whose time has come. As global economics become increasingly interconnected, Christian business people and entrepreneurs have unanticipated opportunities to build kingdom-strategic business ventures. But Christian companies and business leaders do not automatically accomplish missional purposes. BAM requires mastery of both the world of business and the world of missions, merging and contextualizing both into something significantly different than either alone. C. Neal Johnson offers the first comprehensive guide to business as mission for practitioners. He provides conceptual foundations for understanding BAM's unique place in global mission and prerequisites for engaging in it. Then he offers practical resources for how to do BAM, including strategic planning and step-by-step operational implementation. Drawing on a wide variety of BAM models, Johnson works through details of both mission and business realities, with an eye to such issues as management, sustainability and accountability. Business as mission is a movement with enormous potential. This book breaks new ground in how faith and work intersect and are lived out in crosscultural contexts, where job creation and community transformation go hand in hand. Come, participate in what may well be one of the most strategic mission paradigms of the 21st century.
- Publisher


Meet the Authors
Neal Johnson
C. Neal Johnson (Ph.D., Fuller Theological Seminary) is the founding dean of the School of Business and professor of international business at Bakke Graduate University in Seattle, Washington, a institution which seeks to go beyond traditional business schools and help transform global communities through Christian business and entrepreneurial education. Before joining Bakke, Dr. Johnson was a senior fellow and scholar in residence for Business as Mission (BAM) at Belhaven College in Jackson, Mississippi. In addition, Dr. Johnson has had an extensive and unique thirty-year career as an attorney, banker, educator, business consultant and entrepreneur both domestically and internationally.
Steven Rundle
Steve Rundle (Ph.D., Claremont Graduate University)is associate professor of economics and business as mission at Biola University in La Mirada, California. His teaching and research interests are focused on the intersection between international economics and faith-based business. He is also the editor of Economic Justice in a Flat World: Christian Perspectives on Globalization and He has coauthored a book Great Commission Companies: The Emerging Role of Business in Missions (InterVarsity Press, 2011) that shows how globalization is opening up new opportunities for ministry-minded businesspeople. He also assists or has co-founded several organizations that aim to see Christian-owned businesses prosper in less-developed countries.
Koorong -Editorial Review.